The Conference Board and Nielsen are pleased to launch CEO Briefs: US Consumer Demand, a new quarterly series that situates our latest outlook for consumer spending in the context of broader economic trends.
Our goal for the series: To make sense of key indicators—from consumer confidence to income expectations to real estate and equity prices—in a quick summary designed to help senior executives zero in on the opportunities and challenges poised to impact their buisness.
Among the key questions around US consumer demand and the short- to medium-term spending outlook we're aiming to answer with this series:
What do key macroeconomic variables reveal about future trends in consumer demand?
Which sectors and categories will see improved or flagging short-term growth?
How are key policy changes and market events shaping these trends?
CEO Briefs: US Consumer Demand will be updated each quarter as fresh data becomes available. In due course, we will also expand our coverage to include other important global markets.
Annual Growth in Real Consumer Spending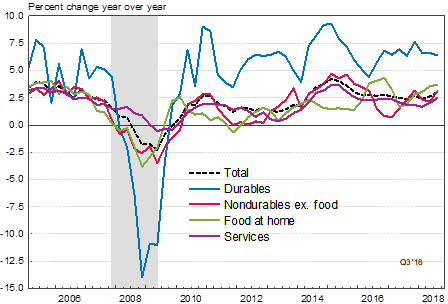 SOURCE: Bureau of Economic Analysis; The Conference Board
Recent Trends in Consumer Spending
Consumer spending has grown by 2.6% through the third quarter of 2018, similar to its very healthy average growth of 2.9% during the past five years.

Q2 2018 was particularly strong at 4.0% (annual rate).



Durables good growth—6.4% over the past—has been consistently strong since the end of the recession because most categories are discretionary.

All durable goods categories are considered discretionary spending because shoppers can delay purchasing replacements when necessary.
As a result, these categories perform well during good economic times. Spending on recreation goods (10.2%) and furnishings (6.6%) have been stronger than motor vehicles spending (4.8%) during the past year.



Spending on non-durable goods has grown by 3.3% through Q3 2018.

Clothing and shoes (5.4%) and food and beverages at home (3.7%) have being the main positive drivers during this period.
Spending on gas, fuel and energy has declined by 0.8% during the past year as higher prices have forced consumers to cut back on real purchases. However, higher prices also positively influence spending activity of workers employed in energy production and in states with heavy concentrations of such workers.


Consumer Spending Outlook for Next Year
Overall spending growth has remained strong and can stay strong in 2019 as long as a strong labor market and consumer confidence remain in place, and policy surprises like dramatic changes to trade policy are kept to a minimum.

CONSUMER SPENDING: Year-over-year percent changes

2019 Positive Drivers
Data from The Conference Board US Consumer Index suggests that Americans' willingness to spend will remain at least at present high levels and could even rise further. Consumer assessment of the present situation is at its highest level since 2001 and the expectations measure has also dramatically strengthened in recent months.

Despite recent equity market turbulence, elevated stock market and housing price valuations are helping to support spending through wealth effects. This will be particularly true for goods and services disproportionately consumed by high net worth individuals.

Unemployment rates below 4 percent and measures of wage growth showing modest acceleration, especially for blue collar and low wage service workers who are experiencing particularly fast wage growth, help to support consumer spending power.

Individual tax cuts enacted at the beginning of 2018 helped to contribute to increased disposable income growth. These tax cuts will do less to support spending growth in 2019.

A stronger labor market and support from tax cuts has also helped disposable income growth to pick up so far during 2018, increasing shopper's ability to spend.

Durable goods and discretionary categories like transportation and food and accommodation services will be supported most by these robust spending conditions.

As the dollar strengthens, exports become cheaper, boosting domestic consumption
2019 Negative Drivers
No further corporate tax cuts are planned to go into effect in 2019, tamping down potential increases in dividends and other business income.

Should trade tensions with China and beyond increase, prices on specific household goods could rise, reducing spending power. For example, a tariff on laundry equipment caused washing machine prices to increase by almost 20%.

The newly concluded United States-Canada-Mexico agreement, the successor to NAFTA, mitigates some risk from a trade shock on consumption.

In addition to trade tensions, wage growth could lead to faster inflation growth, reducing real spending power, but also providing businesses with more scope for raising prices.

The Federal Reserve is likely to continue raising interest rates in response to growing inflation risks. These rate increases will feed through to consumer financing costs, slowing growth for all consumption—especially in cars and other durables where financing purchases is common.