Labor shortages are becoming one of the main barriers for sustaining a healthy US economy, especially in industries that hire many blue-collar and manual service workers. Is this a passing phase or a long-lasting problem?
From a demographic perspective, labor shortages are only going to intensify in the coming decade. The working-age population will barely grow as the number of workforce entrants barely keeps up with the exodus of retirees. And there will be fewer people available for blue-collar and manual services work as the drop in the number of non-college graduates accelerates.
Quickly increasing the number of working-age people could only be done by raising immigration, but in the current political environment, a major immigration increase is unlikely. The remaining option for significantly increasing the number of workers in the US economy is raising labor force participation rates.
In recent years, there has been some improvement in labor force participation rates. But given the historical labor market tightness and the length of the current expansion, overall labor force participation has been disappointing, especially for men, and especially when compared with trends in the past decade in other advanced economies.
But there are also some positive developments. Companies facing the most severe recruitment difficulties, especially in blue-collar industries, are contributing to raising labor force participation by expanding recruiting efforts to under-represented populations and lowering educational requirements. Based on results from The Conference Board Labor Shortages Solutions Survey, 59 percent of companies more affected by labor shortages increased their efforts to recruit underserved populations such as women, mature workers, the disabled, immigrants, and veterans, compared to just 35 percent of less affected companies. Notably, expanding the target demographic was used by 55 percent of blue-collar-heavy companies compared to only 30 percent of primarily white-collar companies, making it one of the recruitment tactics used more intensely to fill blue-collar than white-collar roles. A few examples:
Young minorities. Young people from underrepresented populations are one of the groups benefiting most by the tight labor market. Three groups of young minorities are most likely not to be in work or school: black men, black women and Hispanic women. All these groups experienced a significant increase in the share of 16- to 24-year-olds in work or school compared to pre-recession rates (Chart 1). The largest rise was for Hispanic women, partly due to the shrinking share of young Hispanic women who are not in the labor force because they are taking care of home or family. For white non-Hispanic women and black men, the share of people aged 16–24 in work or school is now the highest on record as well.
---
Chart 1 - Share of men and women in school or work, aged 16–24, 12-month moving average, December 1994 to October 2019
Source: Current Population Survey and calculations by The Conference Board
Black workers. For black workers, the increases in employment are visible across all occupations but are most visible in blue-collar occupations (Chart 2).
---
Chart 2 - Share of black workers in employment by occupation, aged 16 to 64, 12-month moving average, December 2003 to October 2019
Source: Current Population Survey and calculations by The Conference Board
---
Hispanic women. The growth in the share of Hispanic women ages 20–29 in manual services and sales and office jobs has been remarkable (Chart 3). Again, much of the increase is a result of a decline in the amount of family-related responsibilities at this age.
---
Chart 3 - Share of Hispanic women in employment by occupation, aged 20–29, 24-month moving average, December 2005 to October 2019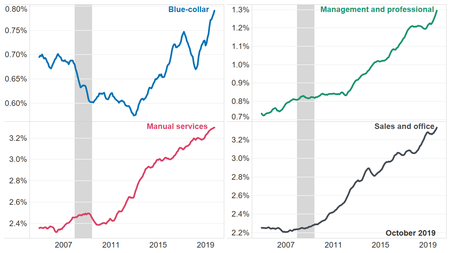 Source: Current Population Survey and calculations by The Conference Board
---
Despite these overall improvements, participation rates for most minority groups are still low compared to other groups. Yet, as mentioned above, companies facing the most severe recruitment difficulties are widening their talent pools much more actively than companies with fewer recruitment problems, primarily by expanding their target recruitment demographic.
The manufacturing, transportation, and construction industries are among those that have the most to gain from targeting an alternative workforce, especially women. For example, some construction companies are attracting women by investing in smaller personal protective equipment— such as hard hats, safety goggles, respirators, and fall-protection harnesses—that better fits women's bodies. And through the Manufacturing Institute's STEP Ahead initiative, companies such as Caterpillar, Proctor & Gamble, and 3M are recognizing female employees and encouraging them to serve as role models for other women to join the industry.
Military veterans represent another underutilized population. Several manufacturers we interviewed are heavily recruiting veterans by working with local military bases and transitional officers, or by partnering with programs such as Operation Reboot or Heroes Make America that assist veterans with the transition from military service to the private sector.
Companies are also tapping into their local immigrant and disabled populations through training programs and community partnerships. One manufacturer we interviewed is targeting their local Hmong population by hiring specialists in the Hmong dialect spoken in the area and offering employees English-as-a-second-language training. Another manufacturer we surveyed is partnering with a local nonprofit called RCS to contract mentally and developmentally disabled adults for packaging and assembly services. And companies like SAP, Ford, and JPMorgan Chase have launched Autism at Work or other hiring programs that reach out to the autistic community and others with neurodivergent conditions.
As the workforce continues to age, more companies should also be concerned about retaining mature workers. Research shows that employers that offer jobs with flexible work schedules, reduced stress, and lower physical demands are more likely to attract and retain older workers. One manufacturer we spoke to went so far as to pursue additional investments in automation and robotics as a way to adapt work to older employees facing physical limitations.
As these examples show, some companies are implementing innovative strategies to expand their recruitment demographic and retain diverse employees. But as labor shortages intensify, more HR departments will have to turn to innovative solutions for recruiting and retaining diverse workforces.