During times of prolonged unemployment, it is rather common that people long searching for jobs drop out of the labor force. People that have been unemployed for an especially longer period of time are more likely to lose faith and stop looking for work. One would expect this to be true for Europe, with record high unemployment and more than eight percent of the total labor force being unemployed for more than a year in countries like Portugal, Spain, and Ireland.

Yet, in fact, this is not the case. In the Euro Area, the participation rate has been rising steadily throughout the economic crisis. This can be seen in Chart 1 below, which shows the large decline in employment in the Euro Area, but an increasing participation rate. The reason for this increase is not the fact that more people have started to enter the labor force once the crisis started, but mainly the result of people in the age group of 50-64 who are no longer moving into early retirement. Europe has a tradition of people retiring well before the retirement age, which is in the process of changing (as demonstrated in Chart 2 below).

This situation is part of a larger trend in Europe towards a higher effective retirement age. Germany saw this in the mid-2000s as the Hartz IV reforms discouraged workers to retire early (see a previous blog entry on Germany specifically), but other countries are also following suit (as can be seen below in chart 3). Spain and Italy have seen similar developments starting from lower percentages, while France also saw a rapid rise in participation after the start of the crisis. It is fair to say that this move has caused many more people to stay in their positions, as the employment rate has grown similarly to the participation rate. This is partly happening due to changing regulations, but also because of increased uncertainty about retirement income, periods of unemployment, declines in stock and home prices, and the inability of businesses to hand out generous retirement offers throughout the past years of recession. (For insights on delayed retirement in the United States by The Conference Board, download the reports Recession Aftermath: What the Delayed Retirement of Mature Workers Means for Business or Trapped on the Worker Treadmill?)

This is a positive sign from an ageing population perspective, as this increases the European workforce quite significantly. Between 2005 and now, the labor force between age 15 and 64 has increased by 3.4 million people in the Euro Area, which represents a substantial improvement. From a short-term perspective, one can see from the decline in the labor force between ages 16-24 that the increase of workers between ages 50 and 64 is hurting the young. The high unemployment rate in that age category is affected negatively by the large increase of people holding onto their jobs in higher age categories. What this means is that the younger generation is not developing its talents fully due to unemployment, working either below their skill level or working only part-time, which is increasing talent shortages in an already small generation. Therefore, this shift in delayed retirement has brought on a negative long-term effect.

Delayed retirement also means that the unemployment rate is now likely elevated as compared to when delayed retirement had not occurred. Even though it is less of a burden on pension funds and positive from a total workforce perspective, it is also an extra burden for a decline in the unemployment rate over the months ahead, as an increasing labor force makes it more difficult to see the unemployment rate decline.
Chart 1: Participation and employment rate for age group 15-64
Sources: Eurostat, The Conference Board
Chart 2: Participation rate for Euro Area by age group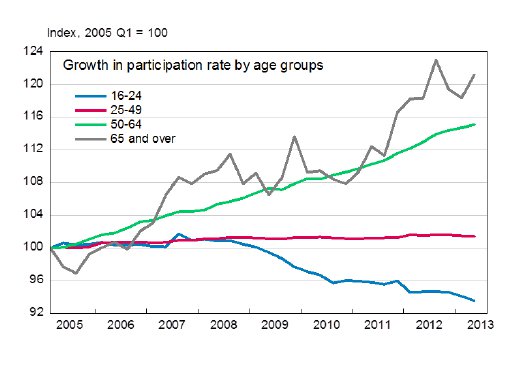 Sources: Eurostat, The Conference Board
Chart 3: Participation rate for age group 50-64 by country
Sources: Eurostat, The Conference Board