Understanding the root causes of employment discrimination is critical to uncovering solutions. A recent review from Anthony Greenwald and Thomas Pettigrew, "With Malice Toward None and Charity for Some," argues that favoritism rather than hostility is actually "the prime cause of American discrimination."1 Similar results have been found in Germany, France, Great Britain, and the Netherlands.2
Greenwald and Pettigrew offer strong, but not definitive, evidence of the dominance of favoritism as the cause of discrimination. Let's be clear. Hostility-based discrimination is egregious and must be addressed. However, assuming that favoritism is at least an important cause of discrimination in employment, what can be done about it?
Taking Action Against Favoritism
The significance of favoritism is that solving it requires a different mindset than hostility. If hostility is perceived to be the problem, solutions will tend to focus on prevention through laws, regulations, and company policies and attitude change through peer influence, confrontation of discriminatory behavior, and training.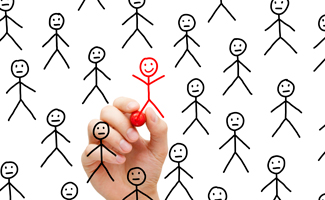 Favoritism, on the other hand, can be addressed by either reducing it or giving underrepresented people equal access to favoritism. The key way to reduce favoritism is by bias proofing human capital processes, such as recruiting and performance evaluation, which also has the benefit of reducing the impact of hostility. Bias proofing will be the subject of a future blog.
Increasing equal access to favoritism is largely a matter of enhancing the networks of underrepresented people inside and outside of the company. "A large body of empirical research shows evidence of the central role networks play in the career development process."3 They play a direct role by providing access to jobs (an ABC report estimates that 80% of jobs are found through networking), mentoring and development opportunities and to the information needed to successfully complete work tasks and an indirect role in "socialization and identity development" processes.4
For networks to be effective, they must combine both social (psycho-social supports "that enhance an individual's sense of competence, identity, and effectiveness in a professional role") and instrumental benefits (task and career supports). Social supports are further enhanced by the closeness of relationships. In addition, networks must have sufficient range (a diverse group of connections which provides access to a wide range of information and resources) and status (which provides connections with individuals of higher status).5
Homophily (the well-proven principle that people connect more with people who are similar to them, or, more simply, birds of a feather flock together) plays an important role in determining the success of networks. It limits the access of underrepresented people to high status network contacts, since they tend to be white men, and limits relationship closeness, since people have closer relationships with those who are more like them. To achieve comparable range, members of underrepresented groups need to have two distinct networks--a social network of people with similar characteristics for psycho-social support and an instrumental network of non-similar, well-placed individuals for task and career support. White men need only one network. One challenge that must be addressed is that some members of underrepresented racial groups perceive networking to be less effective than white males perceive it to be.6
To be successful, then, network building must meet the following criteria:
1) Provide both social and instrumental benefits
2) Enhance the closeness of relationships
3) Increase the range of connections
4) Connect employees with high status individuals
5) Overcome the resistance that some members of underrepresented groups have toward networking
Network building that addresses homophily can be achieved in many ways. Here are some examples that meet one or more of the criteria:
For underrepresented employees:
Establish employee resource groups, if you don't already have them, and very aggressively recruit both underrepresented employees and allies, individuals who unhesitatingly support members of other social groups.
Encourage employee resource groups to sponsor networking events with clients and customers of the same underrepresented group.
Develop an on-boarding initiative that pairs new hires both with employees from their in-group and with allies.
Provide both in-group and ally mentors to high potential underrepresented employees.
Train on the benefits of networking and the skills required to be an effective networker.
Provide career self-management training.
For leaders:
Sponsor an employee resource group of employees from another social group.
Establish and lead an initiative to identify high potential underrepresented people and develop and implement career plans for them.
Become a mentor or, better, a sponsor of employees from different groups.
Support and join the Boards of civic and community organizations where they will connect with well-placed members of underrepresented groups.
Support and join the Boards of organizations that educate and develop leaders from underrepresented communities.
Overall, organizations should evaluate employees' existing networks, employing social network analysis tools, and provide feedback to employees and their managers on each individual's network performance. The data can be aggregated to assess the organization's progress on networking.
If your organization has successfully developed and implemented innovative initiatives that overcome homophily and reduce favoritism and are willing to share them publicly, please contact me at peter.linkow@lead-diversity.com
View our complete listing of Diversity & Inclusion and Talent Management blogs.
---
1 Anthony Greenwald and Thomas Pettigrew, "With Malice Toward None and Charity for Some," American Psychologist, 69, No. 7 (2014): 669-684.
2 Thomas Pettigrew and Roel Meertens, "Subtle and Blatant Prejudice in Western Europe," European Journal of Social Psychology, 25, No. 1 (1995): 57-75 and Roel Meertens and Thomas Pettigrew, "Is Subtle Prejudice Really Prejudice?," Public Opinion Quarterly, 61, No. 1 (1997): 54-71
3 Herminia Ibarra and Prashant Deshpande, "Networks and Identities: Reciprocal Influences on Career Processes and Outcomes," INSEAD (2004): 1-34.
4 Ibarra and Deshpande, 3.
5 Herminia Ibarra, "Race, Opportunity, and Diversity of Social Circles in Managerial Networks," The Academy of Management Journal, 38, No. 3 (1995): 673-703.