When my colleague Sherlin Nair and I began our research on digital transformation, the first thing we learned was that we didn't have a very clear idea about what the term actually means. The second thing we learned is that we weren't alone in needing a better definition.
There's a lot of fuzziness around digital transformation. To many people, it means investing in digital technologies like the Internet of Things, sensing devices, using technology to do something better, faster, or more economically. Digitizing medical records, for example. Or using an app to hail an Uber driver, or check the weather, or find an Indian restaurant, or check how many vacation days you still have coming.
We also heard people use digital transformation as a synonym for big data and analytics.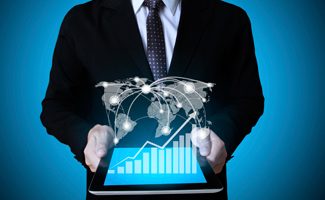 By themselves, however, neither technology nor data and analytics constitute digital transformation. It's the combination of these with two other elements—new levels of connectedness between organizations, people, and physical objects, and a digital strategy for delivering new kinds of business value—that creates digital transformation. Here's our working definition:
"Digital transformation is an enterprise strategy that leverages digital technologies and the data they produce to connect organizations, people, physical assets and processes, etc. Rather than simply increasing efficiency and productivity or reducing costs—the typical focus of many organizational change initiatives—digital transformation entails significant changes in business strategy to discover and capitalize on emerging customer needs and rapidly develop new products, services, markets, processes, and business models."
The Conference Board's recent research report, Digital Transformation: What Is It and What Does It Mean for Human Capital?, explains the four essential elements of digital transformation and describes its ripple effect on the business and on human capital, including organizational structure and design, leadership, the workforce, and every area of talent acquisition and management.
Here's what that ripple effect looks like: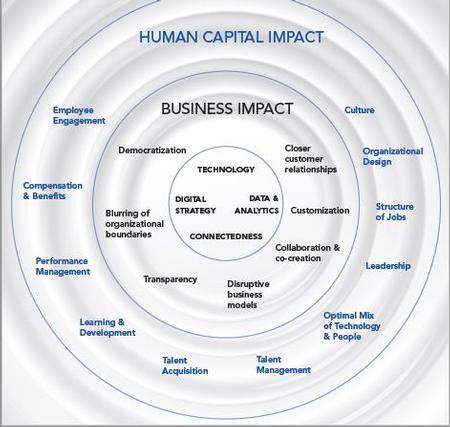 How Technology, Connectedness, Data and Analytics, and Digital Strategy Transform Business
Organizations can harness digital technology to build closer customer relationships, an ongoing give-and-take with customers, and deeper understanding of customer expectations and needs.
As a result, they can segment their market for finely and personalize their offerings to individuals or to groups, continuously refining their offerings over time.
The ease of connectedness enables new kinds of collaboration within organizations, between them (big companies and start-ups, for example) and with gig workers and crowdsourcing.
Companies can enter new lines of business, develop new offerings, or radically change their business model, sometimes disrupting an entire industry.
Organizations become more transparent. They have better information about themselves and their ecosystem, while losing some control over what applicants, employees, competitors, and customers can see.
The distinction between what's inside and outside the organization becomes blurrier with the growing use of partnerships, crowdsourcing, contingent workers, and networks.
Individuals can more easily find and connect with each across levels, functions, and organizations to collaborate, share information, innovate, or manage their careers.


What Does This Mean for Human Capital?
"Everyone's talking about what digital transformation means for the business," one human capital executive told us, "but no one's talking about what it means for human capital." Human resource leaders must be ready to interject those implications as part of the digital strategy process. Yet, a recent survey found that of seven corporate functions, HR ranked lowest in making digital knowledge a priority, and HR leaders were seen as having the weakest digital skills. Our new report provides a high-level overview of digital transformation's ripple effect on human capital. In the coming year, our research will take a deeper dive into its impacts on organizational structure and design, leadership, learning and development, and the human capital function itself.

View our complete listing of Leadership Development and Strategic HR blogs.