On January 27, President Donald Trump signed an executive order prohibiting nationals from Iran, Iraq, Libya, Somalia, Sudan, Syria, and Yemen from entering the United States for 90 days. These restrictions have been suspended temporarily by courts. It is uncertain if they will be reinstated and what travel restrictions other groups of nationals will face.
For now, we can examine the role recent immigrants from "the executive order seven" countries currently play in the US labor market as a means of assessing the potential impact of this policy.
In 2015, just over 230,000 non-US citizens from the seven listed countries who had arrived in the past 10 years lived in the US; about 109,000 of whom were participants in the labor market. Studying this group as one unit minimizes the vast differences in terms of characteristics among the listed countries and immigrants coming from them. This analysis reveals that as a group they are a small but disproportionately-skilled and well-educated cohort.
Small metropolitan areas in university towns like Morgantown, West Virginia and College Station, Texas have fairly large "executive order seven" populations relative to their overall sizes. This result is not surprising. Immigrants in the labor force from these listed countries are almost four times as likely as the general population to hold a PhD. Almost half are college graduates compared with less than a third for the labor force as a whole.
"Executive order seven" labor market participants are more likely to possess college and post-graduate degrees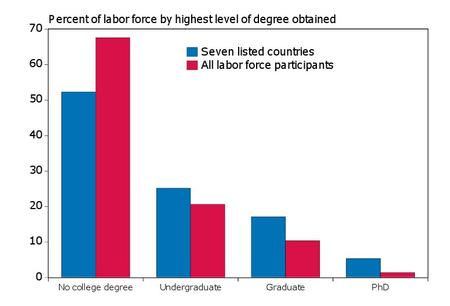 Source: The 2015 American Communities Survey obtained from IPUMS
In addition to being relatively well-educated as a group compared to the labor force as a whole, many "executive order seven" workers provide labor market skills greatly valued by potential employers. The Conference Board conducted a study in 2016 to identify occupations for which businesses would have the most difficulty finding qualified workers in ten years. Those occupations ranked most likely to experience future labor shortages are grouped into the highest quartile of occupations, and those least likely appear in the lowest quartile. "Executive order seven" workers are more likely than the labor force as a whole to be working in occupations both most and least at risk of future labor shortages. This result is not surprising given that many of these workers arrive on student visas while others are admitted as refugees.
Workers from the "executive order seven" countries are well represented in both the highest and lowest groups of occupations defined by future labor shortage risk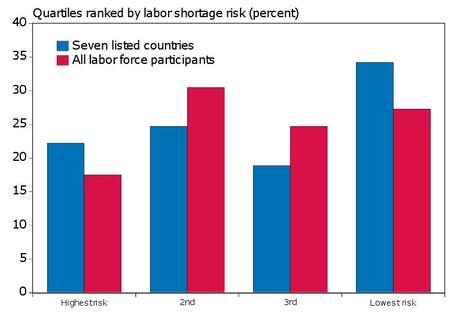 Note: Quartiles are based on ranking of labor shortage risk by three-digit occupation from Gad Levanon and Abdul Erumban, Help Wanted: What Looming Labor Shortages Mean for Your Business, The Conference Board, 2016. A quarter of all occupations are placed in each quartile regardless of how many workers are employed in them. The percentages in this chart represent the share of workers employed in occupation groups covered by each quartile.
Sources: American Community Survey (2015) from IPUMS and The Conference Board
Healthcare is a particular area of need where immigrants in general play an outsized role in the labor market. "Executive order seven" workers are certainly no exception. To contend with an aging population, the ranks of these workers will need to grow rapidly. Engineering is another area of need where participation among workers from these seven countries is relatively high. In other parts of the labor market, however, this population of workers looks much like the rest of the American labor force. Many are employed in personal care and food preparation services, occupations where future labor shortage risk is relatively low.
Top ten occupations by workers from seven listed countries as a share of total workers

Source: American Community Survey (2015) from IPUMS
The tendency of immigrant populations of a particular nationality to gather in select cities is important to remember when anticipating how the inflow of any group of immigrants will affect the labor market. In addition to some of the university towns mentioned earlier, large metropolitan areas with particularly concentrated populations of workers from the seven countries include, Los Angeles; San Diego (in which "executive order seven" countries comprise the largest labor force share of any metropolitan area at 0.37%), Minneapolis-St. Paul; and Detroit. More than half of all workers from the listed countries can be found in 10 metropolitan areas. These cities each have large clusters of particular nationalities: Iraqis in San Diego and Detroit, Iranians in Los Angeles, and Somalis in Minneapolis-St. Paul. When federal regulation restricts the movements of particular nationalities, such laws can produce a disparately disruptive influence on particular local labor markets and economies, even when the nationality in question has fairly small representation in the US as a whole.
Populations of "executive order seven" workers are concentrated in a small number of cities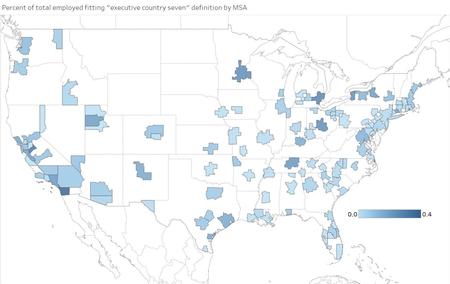 Source: American Community Survey (2015) from IPUMS
Workers from the seven countries listed in the executive order comprise a diverse group reflecting the vastly different homelands they hail from. Many offer skills intensely coveted by firms, others toil in occupations where we do not expect shortages of workers to emerge in the future. Their range of experiences in the labor market is ultimately similar to those of many other Americans. It is clear though that while they comprise only a tiny part of the US population overall, their disproportionate representation in certain high-skilled, high-shortage occupations and in certain metro areas means that losing their participation in the US labor market would produce tangible economic effects.

View our complete listing of Labor Markets blogs.