May 18 - 19, 2016
This is a deep dive for experienced ethics executives on how to leverage the latest research and innovations to build ethics into your organizational structure and culture. It will feature insights into ethical system design, new research from The Conference Board, case studies from industry leaders, and interactive scenarios involving all attendees. This immersive seminar will explore major challenges now facing leaders in ethics and compliance, and demonstrate how to translate the latest insights into practical plans of action to address these challenges.
Key takeaways will include:
Learn about "ethical systems design" -- the study of how to use new social science findings to improve ethics in organizations;
Learn a new set of measures that you can use in your organization to assess your ethical culture;
Discover systemic connections between ethics and engagement;
Gain insights on the use of social media, storytelling and other innovations to shape culture;
Explore ethical challenges on the horizon
Benefits of Attending:
Experience an immersive interactive format to share insights with, and gain insights from, fellow attendees and speakers
Access exclusive research and insights from The Conference Board's experts
Learn how to translate the latest research and innovations into practical plans of action for your organization
Network with fellow experienced ethics and compliance professionals
---
Earn up to 14 CPE credits in Behavioral Ethics
Business Management and Organization
Requirements : Attendees must sign-in each day for full credit. Delivery Method: Group-Live, Program Level: Intermediate, Prerequisites: Bachelor's degree or higher, Advanced Preparation: None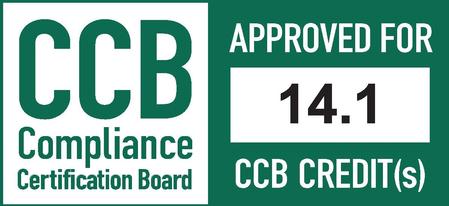 Earn up to 14.1 CCB credits
The Compliance Certification Board (CCB) has approved this event for up to 14.1 CCB CEUs. Continuing Education Units are awarded based on individual attendance records. Granting of prior approval in no way constitutes endorsement by CCB of this program content or of the program sponsor.
---
Get involved!
If you would like to get involved, please contact:
For Speaking Opportunities, please contact Joan Greco at Joan.Greco@conference-board.org.
For Sponsorship Opportunities, please contact Michael Felden at michael.felden@conferenceboard.org.