Global Economic Outlook
JANUARY 2020

Click on the chart to browse forecasts by country and region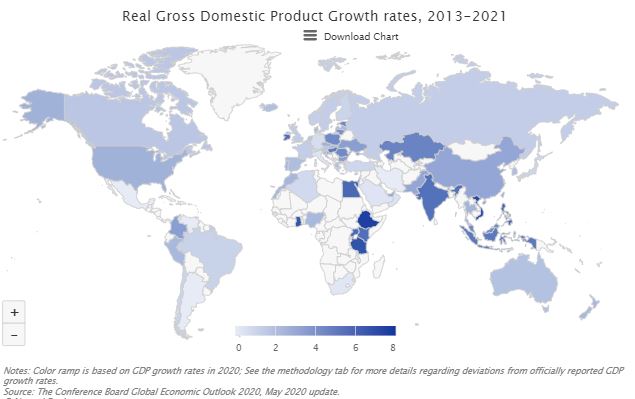 Stagnating growth and stalling globalization: What's ahead?
The global economy took a big hit in 2019, and recession fears are widespread. We argue that the risk of a larger downturn—while not absent—will be contained, and the global economy will likely return to its slow, long-term growth trend of 2.7 percent sooner rather than later. The downturn in the industrial cycle will most likely ease and eventually bottom out. Consumers around the world will benefit from rising wages and low inflation rates while businesses continue to leverage innovation and digital transformation to grow top-line revenue and reduce costs to avoid a major squeeze on profits. However, the contribution of trade to global growth will lessen as businesses shorten value chains by "trading up" and "going local." Productivity growth is critical to make up for the slack of slower globalization and weaker growth in the global workforce.
View this infographic from the October 2019 release for a visual overview.
For members
To explore the Global Economic Outlook data, use the online data tool (including an option to download the data in excel format) available here.
Are you interested in getting in touch with our researchers behind the GEO model? Do you need someone to review your own growth model? If you would like to get in touch with us, please send an email to ted.geo@conference-board.org.
Publications (2019 release)
Past publications (2018 release)
Next update
The next quarterly update of The Conference Board's Global Economic Outlook is scheduled for mid-April 2020 and will include a new StraightTalk publication.