Global Economic Outlook - Home
JULY 2019

Click on the chart to browse forecasts by country and region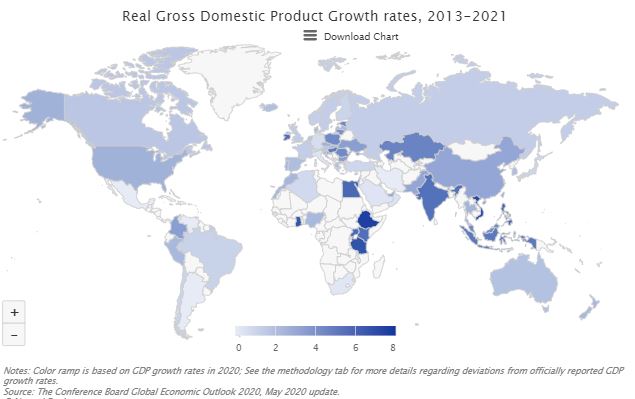 The 2019 growth slowdown is now visible across all regions
Through the first half of 2019, the slowdown of global growth has clearly taken hold, and we do not see an easy way back up for now. The slowdown has been extraordinary synchronized around the globe, impacting the United States, Europe, China, India and large Latin American economies, notably Brazil and Mexico. At the same time, looking at our leading economic indicators, the risk of outright recession is still low for most large economies, with the exception of the United Kingdom due to Brexit, and possibly Brazil due to high unemployment and persistent ambiguity regarding reforms. But we are also getting more concerned about the growth trajectories in Germany and Japan, which create potential downside risk to the outlook.
More broadly, the ongoing uncertainties with regard to trade disputes and other geopolitical upheavals impact in particular on business confidence. This will make companies more reluctant to deliver on large capital expenditure plans. It will also impact the outlook for the remainder of the year and – if this lingers on for much longer – also into 2020.
Note: The July 2019 update of the Global Economic Outlook 2019 does not feature a StraightTalk publication.
Click below to view the infographic
For our members
To explore our full portfolio of related products, visit our member page.
To explore the Global Economic Outlook data, use the online data tool (including an option to download the data in excel format) available here.
Are you interested in getting in touch with our researchers behind the GEO model? Do you need someone to review your own growth model? If you would like to get in touch with us, please send an email to ted.geo@conference-board.org.
Publications
Next update
The next annual revision of The Conference Board's Global Economic Outlook is scheduled for mid-October 2019.