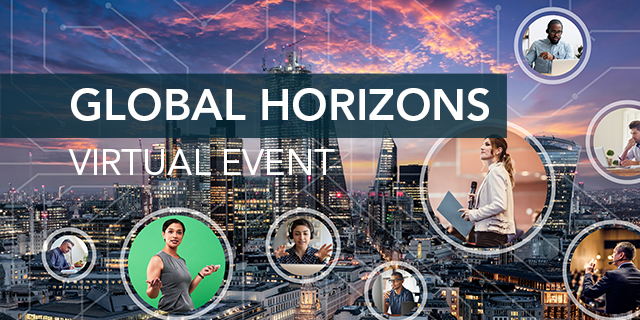 MARCH 22 - 25, 2021
VIRTUAL MEETING
March 22 - 25, 2021
About the Conference
Owing to COVID-19 we have postponed our 36th Global Horizons Conference to October 2021 (dates TBC). However, we are delighted to bring you a virtual conference on 16 - 18 March. This virtual event taking place over 3 half-days will convene executives and policy makers with world experts to examine the pivotal issues shaping politics, the economy, business and society.
The Global Horizons Virtual Conference 2021 offers an engaging blend of keynotes, panels and interactive group sessions characterized by peer-to-peer and peer-to-expert exchanges addressing the most pressing issues of geopolitics, tech and business including:
What are tomorrow's geopolitical risks and how should companies and governments prepare for them?
What shape and trajectory will globalisation take and where do emerging opportunities lie?
How is digital transformation shaping society, businesses and labour markets, and how should policy makers, corporate executives and the future workforce adapt?
How is the changing balance between financial value and societal impact affecting business in the 21st century?
How to collaborate in a competitive environment?
This year's Global Horizons is the result of a unique partnership between Oxford Analytica, the pioneer of geopolitical analysis, and The Conference Board, the leading business think tank providing insights for what's ahead.
Who Should Attend?
High-level attendees at Global Horizons include:
Board Members
Government leaders
Chief Executive Officers
Chief Strategy Officers, and Directors and VPs in strategy
Officers, VPs, and Directors in innovation
Corporate Security and Chief Risk Officers
Policy-makers and opinion formers
Chief Financial Officers and General Counsels
Academia
Get Involved!
Delegate registration: customer.service@conference-board.org
Sponsorship opportunities: michael.felden@conference-board.org
Marketing partnerships: melissa.mianulli@conference-board.org