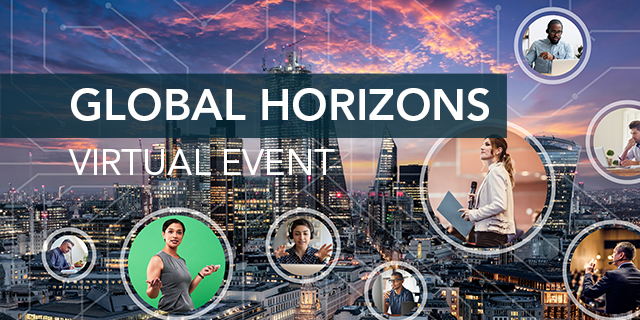 MARCH 23 - 25, 2021
VIRTUAL MEETING
March 23 - 25, 2021
About the Conference
In this new, post-COVID decade of global transformation will your organisation be ready to survive - and thrive - in the future?
This virtual event taking place over 3 half-days will convene executives and policy makers with world experts to examine the pivotal issues shaping politics, the economy, business and society.
The Global Horizons Virtual Conference 2021 offers an engaging blend of keynotes, panels and interactive group sessions characterized by peer-to-peer and peer-to-expert exchanges addressing three key topic areas: Geopolitics, ESG and Technology.
Topics to be covered include:
Geopolitics
East Asia's flashpoints and geopolitical rivalry
Democratic decay? Rules and institutions in developed states
The Gulf states' transformation
Environmental, Social and Governance
The growing role of the state
The road to Glasgow: COP26 and the climate agenda
Debt and development: footing the bill for COVID-19 disruption
Technology
The contest for technological dominance
Balancing Big Tech
Tech inequality: haves and have-nots
This year's Global Horizons is the result of a unique partnership between Oxford Analytica, the pioneer of geopolitical analysis, and The Conference Board, the leading business think tank providing insights for what's ahead.
Register Early & Save!
Book your virtual conference spot before January 29th and save ($105 for members and $200 for non-members). Price increases thereafter!
Who Should Attend?
High-level attendees at Global Horizons include:
Board Members
Government leaders
Chief Executive Officers
Chief Strategy Officers, and Directors and VPs in strategy
Officers, VPs, and Directors in innovation
Corporate Security and Chief Risk Officers
Policy-makers and opinion formers
Chief Financial Officers and General Counsels
Academia
Get Involved!
Delegate registration: customer.service@conference-board.org
Sponsorship opportunities: michael.felden@conference-board.org
Marketing partnerships: melissa.mianulli@conference-board.org