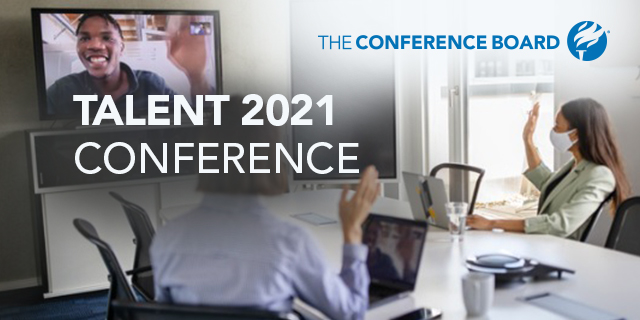 OCTOBER 20, 2021
WALGREENS , CHICAGO, IL
October 20, 2021
Hybrid work environments are undoubtedly shaping future business models and as organizations start to transition employees back to offices, hybrid teams will be the new norm. Having seen productivity gains among employees during the pandemic, organizations are planning a hybrid virtual model that combines remote work with time in the office.
Although many organizations have announced a general intent to embrace hybrid virtual work, only a few have shared detailed guidelines, policies, or expectations. Employees are looking for organizations to emphasize flexibility, well-being, and competitive compensation.
The results of The Conference Board, April 2021 survey suggest that human capital professionals are facing four main challenges in the months ahead:
Adjusting to a world where a large share of employees primarily works remotely.
Recruiting qualified workers and retaining existing workers, especially in organizations employing primarily industry and manual services workers.
Addressing deteriorating employee well-being.
Managing the return to the workplace.
Join us as we share this research along with organizations that are leading the way. We will be hosting this in person event at the Walgreens Headquarters.
Who Should Attend
Chief Talent Officer
EVP, SVP, VP, Director, Manager of

Learning
Leadership
Talent Acquisition
Recruiting
Workforce Planning
Talent Management
Employment Branding
Onboarding
Talent Mobility
Data Analytics
Get Involved
If you would like to get involved in this year's conference, please contact us.
This event is $1,095 for The Conference Board members and $1,295 for non-members. Register now to join us in-person in Chicago.