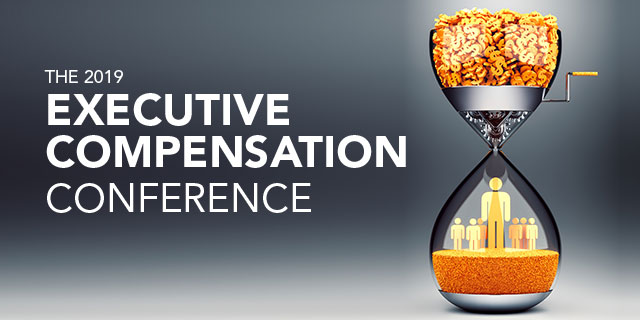 OCTOBER 22 - 23, 2020
WESTIN NEW YORK AT TIMES SQUARE,NEW YORK, NY
October 22 - 23, 2020
A "must" attend event. We will address important developments and how the executive compensation environment continues to change due to emerging best practices, the Tax Cuts and Jobs Act (162m), compensation design trends, impact of the Pay Ratio disclosure, reducing pay design complexity, pay disparity and more.
This conference will be very interactive. We will address new and emerging executive compensation trends during the 2020 Proxy season. These important developments will be discussed and how Compensation Committee members, CHROs and Total Rewards Professionals are addressing them and preparing for 2021. The executive compensation environment continues to evolve and the benchmarked best practices continue to change. We will discuss how companies are implementing SEC rules (e.g. Pay Ratio), improved incentive designs to ensure greater pay-for-performance alignment and much better communications as our investors and other stakeholders are demanding enhanced disclosures. There is a major issue of public trust of compensation outcomes. Other topics will include selecting performance metrics for short, medium and long-term and global issues in executive compensation, and Board of Directors compensation issues.
Who Should Attend:
SVP, VP and Directors of: Executive Compensation, Total Rewards, Compensation and Benefits
CHROs
Legal Executives
General Counsel
Corporate Secretaries
Senior Communications Executives
Member of Board Compensation Committees
---
Get Involved!
For marketing partnerships, contact melissa.mianulli@conferenceboard.org.
For sponsorship opportunities, contact michael.felden@conferenceboard.org.
For speaker inquiries, contact greg.lau@conferenceboard.org.