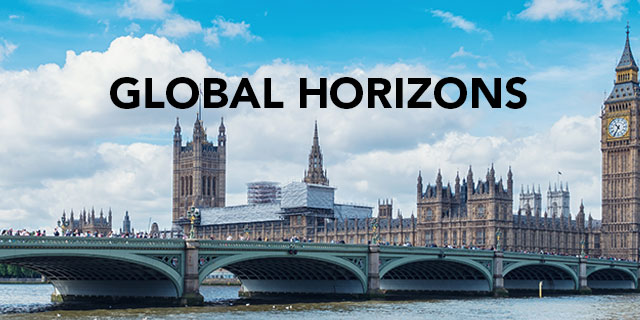 October 06 - 07, 2020
About the Conference
As this new decade of global transformation begins and the disruptive drivers accelerate, will your organisation be ready to thrive in the future?

Join us in London at the 36th Global Horizons Conference which convenes senior executives and policy makers with world experts to examine the pivotal issues shaping politics, the economy, business and society.

Global Horizons offers an engaging blend of keynotes, panels and interactive group sessions characterized by peer-to-peer and peer-to-expert exchanges addressing the most pressing issues of geopolitics, tech and business including:
What are tomorrow's geopolitical risks and how should companies and governments prepare for them?
What shape and trajectory will globalisation take and where do emerging opportunities lie?
How is digital transformation shaping society, businesses and labour markets, and how should policy makers, corporate executives and the future workforce adapt?
How is the changing balance between financial value and societal impact affecting business in the 21st century?
How to collaborate in a competitive environment?
Global Horizons is the result of a unique partnership between Oxford Analytica, the pioneer of geopolitical analysis, and The Conference Board, the leading business think tank providing insights for what's ahead.
Who Should Attend?
High-level attendees at Global Horizons include:
Board Members
Government leaders
Chief Executive Officers
Chief Strategy Officers, and Directors and VPs in strategy
Officers, VPs, and Directors in innovation
Corporate Security and Chief Risk Officers
Policy-makers and opinion formers
Chief Financial Officers and General Counsels
Academia
Past Speakers Include:
Tim Baker
Global Head of Applied Innovation
Thomson Reuters

Mary Cline
Senior Policy Advisor,
Office of the Chairman
EY

Vinco David
Secretary General
Berne Union

Paul Davidson
Chairman & CEO
Willis Towers Watson Financial Solutions Division

Mark Farrington
Managing Director,
Head of Macro Currency Group
Principal Global Investors Europe (PGIE)

Rob Hamer
VP Agrifood External Affairs
Unilever

Steve Hill
Managing Director,
Global Head of Technology Operational Risk
Credit Suisse Services

Andrew McConville
Head of External Affairs and Communication
Syngenta

Lakshmi Shyam-Sunder
Vice President and Chief Risk Officer
World Bank Group

Chelsey Slack
Deputy Head, Cyber Defence Section
NATO

Brad Staples
Chief Executive Officer
APCO Worldwide

Douglas H. Wise
Former Deputy Director of the
Defense Intelligence Agency, USA
Former CIA Senior Intelligence Service
Get Involved!
Delegate registration: customer.service@conference-board.org
Speaker opportunities: michael.keaveney@conference-board.org
Sponsorship opportunities: michael.felden@conference-board.org
Marketing partnerships: melissa.mianulli@conference-board.org
Ready to Join us?
Book Now and Save $400! And join the conversation on social using #GlobalHorizons2020
Silvia Hernandez, Partner - Future of Work Now Leader, Ernst & Young
Nick Redman, Director of Analysis, Oxford Analytica
Brad Staples, CEO, APCO Worldwide
Axel Threfall, Editor at Large, Thomson Reuters