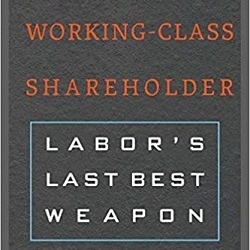 Book Discussion: 'The Rise of the Working Class Shareholder' with David Webber
Labor's Last Best Weapon
What power does labor have over the portfolio companies that control their pensions?
In short: quite a lot.
In his captivating book, The Rise of the Working Class Shareholder: Labor's Last Best Weapon, David Webber (Boston University School of Law) reviews recent cases where multibillion-dollar pension funds flexed their muscles and launched shareholder actions against companies to protect their working-class contributors' interests, and details the profound impact they have had - from unseating entrenched board members at Safeway to divesting from anti-labor and gun companies.
In our webcast interview, Prof. Webber and Doug Chia (Executive Director, Governance Center) discuss:

The strengths/weaknesses of various tools working-class shareholders can use to to effect change at companies (strikes, shareholder actions, etc.)


Common triggers among pension funds which made them spring into action (Safeway, Home Depot. etc.)

Ways labor should engage with their portfolio companies

How a shift from long-termism should incorporate labor concerns

The future for labor capital as a market force
This "Book Discussion" interview is available for you to view at your convenience by clicking on the button below.
Speakers