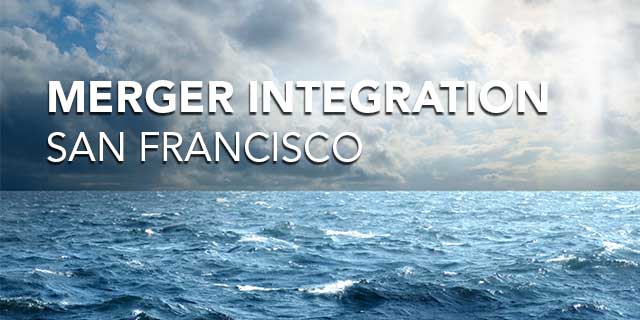 JUNE 11 - 12, 2020
WESTIN ST. FRANCIS,SAN FRANCISCO, CA
June 10, 2020
HR M&A Lab
At this one-day interactive seminar, experienced HR M&A practitioners will share case studies and best practices for increasing success.
Confirmed speakers to date include:
Faraj Aalaei, EVP, Marvell Semiconductor
J. Keith Dunbar, Ed.D, Program Director & Distinguished Principal Research Fellow, The Conference Board
Charlie Franklin, Head of People M&A and Global Mobility, Workday
Craig Hinkley, CEO, WhiteHat Security
Rehan Jalili, President & CEO, Securiti.ai
Klint Kendrick, Ph.D, Director, Mergers & Acquisitions HR, Oracle
Chris Koopsman, EVP, Marvell Semiconductor
Todd Manley, Senior Director, M&A Integration and Business Transformation, Marvell Semiconductor
Mitchell Lee Marks, Ph.D, Emeritus Professor of Leadership, San Francisco State University, College of Business
Topics to be discussed include:
The Leadership Playbook
HR M&A Post-Mortem: How to Assess your HR M&A Practice
What's More Important to Deal Success – Culture or Leadership?
HR M&A Problem Solving – Reciprocity Ring
Perspectives on Being Acquired and Talent Risks
Who Should Attend
This conference is designed especially for executives and business leaders involved in any of the following areas related to M&A activities:
Integration
Corporate Development
Corporate Strategy
Human Resources
Executive Compensation
Employee Engagement
Change & Transformation
Get Involved
If you would like to get involved in this year's seminar, please contact us.