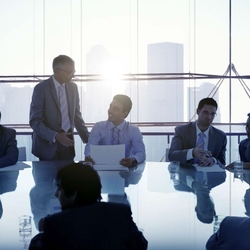 About The Directors' Collective™
Independent Corporate Governance Research and Peer Networking Resources for India's Public Companies
About The Directors' Collective™
The Directors' Collective(TM) brings together the independent research and thought leadership of The Conference Board with the subject matter and global expertise of executive search firm Russell Reynolds Associates. The collaboration is designed to guide corporate directors in carrying governance and compliance responsibilities as India Inc. prepares for the complex demands placed upon board members and senior executives by the Companies Act, 2013; the listing regulations of the Securities and Exchange Board of India (SEBI); and other industry-specific regulations.
The Directors' Collective is assembling a holistic suite of knowledge assets—encompassing educational publications and benchmarking research; immersive workshops, webcasts, and other training programs; and peer networking groups.
Research and Publications
To mark its launch, The Directors' Collective has released Handbook on Corporate Governance in India: Legal Standards and Board Practices, the inaugural piece in a portfolio of research and practical comparative tools similar to those that have made The Conference Board one of the most recognized knowledge providers in the United States.
To assess the most pressing business challenges faced by India's corporate leadership, The Directors' Collective will also continue the tradition of surveying CEOs, chairmen, and presidents in the annual C-Suite Challenge™.
Finally, the portfolio will include Director Notes – India Edition and the Corporate Intelligence suite of benchmarks on:
Executive and director remuneration
Board composition, director qualifications, and diversity
CEO succession practices
Environmental and social practices
Shareholder activism
Training and Professional Development
Academies, Workshops, and Executive Briefings held in major cities in India immerse business leaders in hands-on learning with recognized practitioners in fields undergoing critical change. Our faculty provides real-world insights, coaching you on an action plan tailored to your organization. In addition, a quarterly Webcast series, available live and on-demand, will inform on updates, enabling members to gain new perspectives and address urgent and timely issues as they emerge.
Peer-to-Peer Networking
The Directors' Collective extends to its members the benefits of participation in The Conference Board Council program, a global network of peers in a wide array of business functions. While benchmarking, industry insights, and best practices all help shape strategic decisions, it is through a confidential dialogue of peers that these notions and their practical application come to life. Such shared experiences and enduring relationships are the cornerstone of the council experience.
Who Should Participate
India company board members and chief executive officers, as well as company secretaries and senior executives responsible for governance.
Membership
For information on membership in The Directors' Collective™, please contact Julian D'Souza, Regional Head, South Asia, The Conference Board at julian.dsouza@conference-board.org or Tel: +91 998 754 8045.