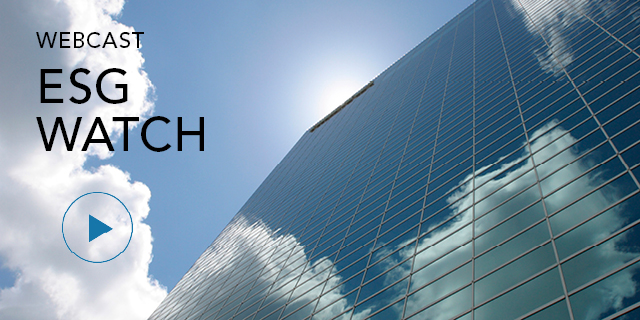 ESG Watch delivers trusted insights on hot-button and emerging environmental, social, and governance issues.
Webcasts On Demand
July 13, 2020 12:00 PM ET [12:00] (New York)

Boards will be facing increasing demands on their time and attention, focusing not only on issues that were at the top of their agenda at the outset of the pandemic, but also those that were near at the bottom. Join this webcast as we explore how boards are currently organized and if they are equipped to address these shifting priorities.
May 12, 2020 12:00 PM ET [12:00] (New York)

A great deal of attention has been paid to how companies are navigating the COVID-19 pandemic, yet there has been little focus on investor expectations and engagement with companies during this time. Join experts from CalSTRS, Nuveen, and T. Rowe Price to discuss what investors want to know and what companies can do to prepare for the 2021 proxy season.