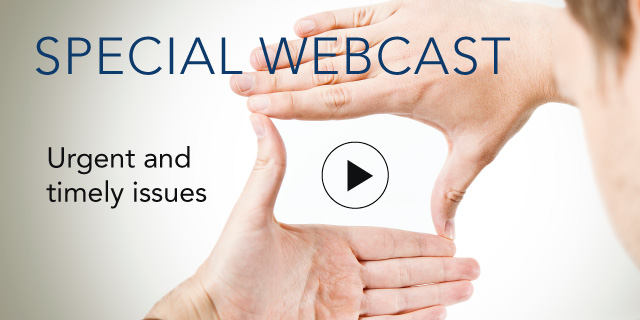 Learn about Standardized Social Outcomes for Companies

03 April, 2019 | (01 hr)
Sign In to access this Webcast
Is your business seeking to better understand the impact of your corporate philanthropy on society?
Learn how a common, standardized measurement and reporting framework helps nonprofits meet the needs of multiple funders, including corporate funders, efficiently and cost-effectively.
Join us to gain important insights about corporate societal investment and hear:
Some of the key insights that social outcomes benchmarks can deliver

Practical experience from a company at the forefront of measuring social outcomes

How to match your company's approach to data with a similar rigorous, data-driven social impact measurement and reporting methodology that helps you get smarter about corporate giving
Who Should Attend: People responsible for corporate social responsibility, societal investments, philanthropy, nonprofit relationships, and social impact measurement, along with communications executives looking for data-driven community impact stories and nonprofit executives seeking standardized reporting frameworks that resonate with funders.
Speakers
Arlene Isaacs-Lowe
Global Head of Corporate Social Responsibility (CSR)
Moody's Corporation
President
Moody's Foundation

Arlene Isaacs-Lowe is the Global Head of Corporate Social Responsibility (CSR) for Moody's Corporation and President of the Moody's Foundation. Arlene champions the integration of environmental, social and governance (ESG) considerations across Moody's as drivers of long-term va...Full Bio

Marcy Twete
Managing Director
Mission Measurement

Marcy Twete is a recognized leader corporate responsibility and sustainability for multinational Fortune 500 companies. She believes (to tweak a quote from Former President Bill Clinton) there is nothing wrong with corporate America that cannot be cured by what is right with corporate ...Full Bio

Alex Parkinson (Moderator)
Communications Institute Co-Leader
The Conference Board
Principal
Parky Communications

Alex Parkinson is Principal of Parky Communications, a communications agency specializing in sustainability and CSR reporting and communications. He serves as the Co-Leader of The Conference Board Corporate Communications Institute and is also Executive Editor of the organizat...Full Bio