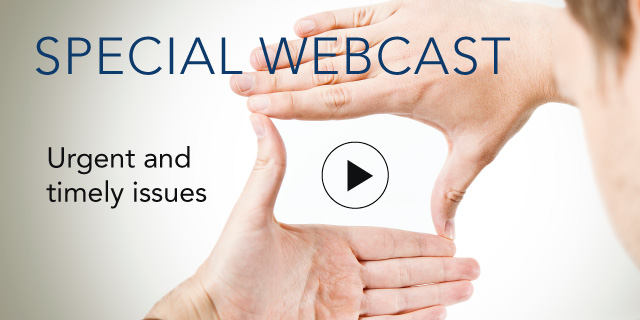 EU Circular Economy Package
A Challenging Yet Important Impulse
13 November, 2018 | (01 hr)
Sign In to access this Webcast
The European Commission has adopted an ambitious new Circular Economy Package to help European businesses and consumers to embrace "recycle, repair, and reuse" and make a transition to circular economy. For businesses, transition to circular economy can lead to new opportunities.
Join us as we examine the concept of circular economy and discuss the opportunities and risks associated with the EU Circular Economy Package. We will also hear from Dell, a company which has successfully implemented some of the principles of circular economy and explore their journey so far.
Click HERE to Download/Purchase Director Notes on this topic.
Key takeaways:
EU Circular Economy Package – what is it, what does it mean for a business
Business imperative for embracing circular economy
How companies are embracing circular economy principles
Tips on how businesses can make a start on the circularity journey
Speakers
Dr. Adriana Neligan
Senior Economist for Green Economy and Resource Economics
German Economic Institute (IW)

Dr. Adriana Neligan is a Senior Economist in the Department of Environment, Energy and Infrastructure at the German Economic Institute (IW). Her research focusses on resource efficiency/circular economy, sustainability, resource economics and all aspects of a Green(ing) Economy. Prior to this she...Full Bio

Markus Stutz
Director EMEA Product Compliance & Environmental Affairs
Dell Computer Corporation

Markus Stutz is Director EMEA Product Compliance & Environmental Affairs for Dell. He is responsible for ensuring market access for all Dell products across the region. Key focus for his team is on monitoring and influencing legislations and standards. Until 2016 he was the EMEA Environmental...Full Bio

Dr. Uwe G. Schulte (Moderator)
Leader, Global Sustainability Centre and Program Director
The Conference Board

Dr. Uwe G. Schulte is Leader, Global Sustainability Centre, and Program Director for the European Sustainability Council at The Conference Board.

Schulte was executive director of the INSEAD Social Innovation Centre and spent most of his professional career at Unilever. In his final role,...Full Bio