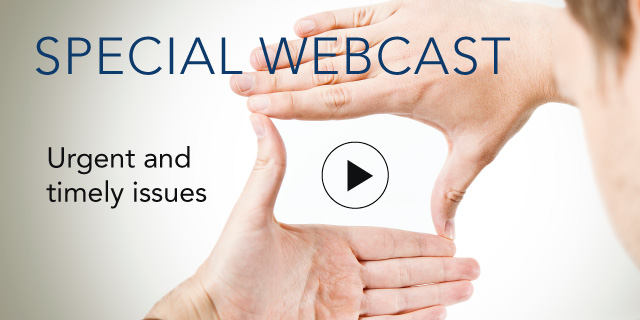 Key Levers for Successfully Managing the Uncertainty and Disruption of COVID-19

30 April, 2020 | (01 hr)
Sign In to access this Webcast
The world we knew has changed – rocked by COVID-19. We're worried about safety and well-being; we're shifting plans, priorities, and activities. We're in this together but need help coping. Based on hundreds of global companies immersed in disruptive change, new research offers important insights for how to manage major disruption to business as usual.
Paradoxically, the answer lies in counter-balancing the chaos and complexity of disruptive change with practices that foster simplicity, clarity, and focus. This webcast will share the surprising mindsets and strategies that are essential to build the agility and resilience we need right now to cope with COVID-19.
Join Dr. Elaine Pulakos, CEO of PDRI, to learn:
Evidence-based lessons from companies immersed in disruptive change about how to manage this successfully;
How leaders can stabilize situations, a critical first step on the path to developing high agility and resilience; and
How to apply mindsets and practices that are most essential for managing disruptive change to your situation.
Who Should Attend: Leaders who are managing disruptive change in government and any type of business, those on the front lines of caregiving and emergency responding, and even those leading their families through the current disruptive change will benefit from this webinar.
Speakers
Elaine Pulakos, Ph.D.
Chief Executive Officer
PDRI

Dr. Elaine Pulakos has spent her career working with organizations to design and implement all types of talent management systems at all organizational levels. She is a recognized expert in the areas of individual, team, and organizational agility. She has authored numerous articles, book chapter...Full Bio

Rebecca L. Ray, PhD (Moderator)
Executive Vice President, Human Capital
The Conference Board

Rebecca Ray is the Executive Vice President, Human Capital, at The Conference Board. She leads the US Human Capital Center and is responsible for member engagement and retention as well as the overall quality and continuing integration of all research and offerings across the human capital spectr...Full Bio