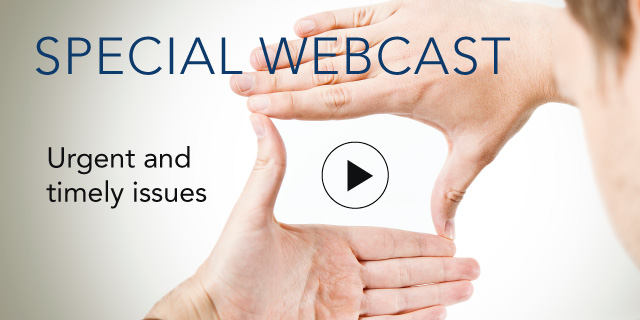 Safeguarding Intellectual Property & Addressing Corruption in the Global Supply Chain

03 December, 2012 | (01 hr)
Sign In to access this Webcast
In an era of globalized production--trade secrets, copyrights, and patents often lay exposed to unscrupulous partners. The crucial question is how to develop and sustain productive relationships with suppliers while ensuring protections throughout a product's lifecycle. Safeguarding IP in the supply chain is about more than preventing losses and decreasing compliance risks; it gets to the heart of achieving the fierce but fair competition and widespread economic development promised by global trade.

In March 2012, The Conference Board partnered with the Center for Responsible Enterprise and Trade (CREATe), a nonprofit organization committed to driving responsible business practices globally, to launch a Research Working Group on Safeguarding Intellectual Property & Addressing Corruption in the Global Supply Chain. Top-level participants from DuPont, Microsoft, ARAMARK, Emerson, TE Connectivity, Rockwell Automation, Siemens, and others joined forces to examine the latest trends and best practices for mitigating supply-chain challenges caused by corruption and misappropriated IP. This collaborative effort resulted in a comprehensive research report, which will be released in December 2012.
Please join us in this webcast as we will discuss the outcomes from this group and examine how the key findings from the report will impact multinational corporations.
Audience: compliance attorneys, IP attorneys, senior international attorneys, supply chain and procurement professionals
Speakers
Donna Dabney
Former Executive Director, Governance Center

Donna Dabney, former Executive Director of The Conference Board Governance Center, is currently a Senior Advisor to the Governance Center.

Prior to joining The Conference Board, Donna was Vice President, Corporate Secretary and Corporate Governance Counsel of Alcoa Inc. and she part...Full Bio

Craig Moss
Senior Advisor: Strategy & Program Development
Center for Responsible Enterprise and Trade (CREATe)

Craig Moss is the Senior Advisor, Strategy & Program Development of CREATe.org. Mr. Moss develops and manages programs for Social Accountability International (SAI) to assist multi-national companies with the continual improvement of labor standards performance in their supply chains. Mr. Mos...Full Bio

Pamela Passman
President and CEO
Center for Responsible Enterprise and Trade (CREATe)

Pamela Passman is the founding President and CEO of the Center for Responsible Enterprise and Trade (CREATe.org), a non-profit business association that develops tools and resources to encourage greater compliance along global supply chains with respect to the protection of intellectual property ...Full Bio

Daria Lamb (Moderator)
Director, Research Working Groups
The Conference Board

Daria Lamb has been director of The Conference Board Research Working Groups since February 2011. In this role, she works closely with economists, human capital researchers, and governance professionals from The Conference Board offices in the United States, Europe, Asia, and India. She has launc...Full Bio