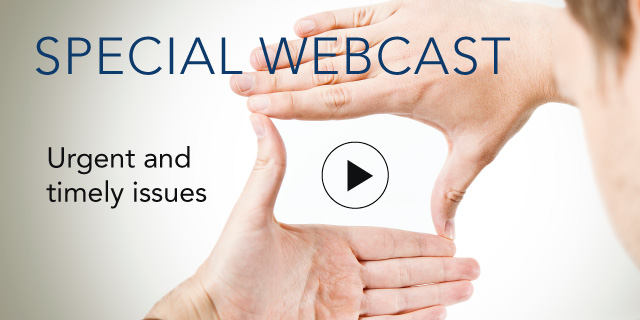 Shareholder Engagement with Boards of Directors - Part 2
Substantive Issues
11 April, 2013 | (01 hr)
Sign In to access this Webcast
There is increasing pressure for greater shareholder engagement in the U.S., the U.K., throughout Continental Europe (reinforced by recent proposals by the European Commission) as well as in India (reinforced by recent SEBI proposals). Part I of this webcast series, which focused on procedures for companies and shareholders to conduct director/shareholder engagement, is followed by Part II, which focuses on the issues suitable for discussion between shareholders and directors/chairmen versus those issues normally discussed between investors and management.

As with the procedures for shareholder engagement with directors/chairmen, discussed in the first webcast, both the processes and the issues to be discussed must be informed by knowledge of the investor base. This includes the fact that investors vary significantly in their characteristics (public or governmental pension funds, corporate pension funds, insurance investment arms, mutual funds, hedge funds, etc.) as well as in their objectives and methods of communication. For example, some investors embrace the U.K. Stewardship Code which provides an (evolving) engagement structure, while others are more individualistic in their director/shareholder engagement strategies.
To listen to the recording of Part 1 also, click HERE.
Who should attend:
Chairmen, Non-Executive Directors, Executive Directors, CEOs, Chief Legal Counsel, Corporate Secretaries, Corporate Governance Officers, Secretaries to Boards of Directors, Risk Officers, Human Relations Executives, Investor Relations Executives, Institutional Investors
Speakers
John C. Wilcox
Chairman
Morrow Sodali Global LLC

John C. Wilcox is Chairman of Morrow Sodali Global LLC, an international consultancy providing companies and boards of directors with advice and services relating to corporate governance, institutional investor relations, proxy solicitation, shareholder engagement and strategic cross-border trans...Full Bio

Guy Jubb
Honorary Professor
University of Edinburgh

Guy Jubb's executive career has spanned accounting, merchant banking and fund management, latterly as Global Head of Governance &a...Full Bio

Dr. Carolyn Kay Brancato (Moderator)
Co-Council Director, Corporate Governance Council
The Conference Board
The Conference Board

Dr. Carolyn Kay Brancato has more than 30 years experience in various aspects of corporate governance, corporate finance and regulatory economics. Her work is globally recognized in such fields as: tracking the growth of global institutional investors; how equity market short-termism is dis...Full Bio