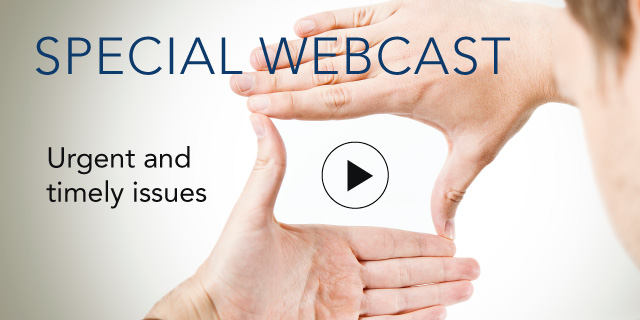 A Universal Basic Income: Why and How?

10 October, 2017 | (01 hr)
Sign In to access this Webcast
The idea of a universal basic income, an unconditional cash payment for all citizens, has recently gained popular backing. The list of supporters includes several Silicon Valley tech companies who see it as a solution to the risk of automation of an increasing number of jobs. Finland and the Canadian province of Ontario have recently launched trial programs.
Join us for this webcast as we explore:
Why is the idea of a universal basic income gaining popularity?
What factors explain the support of a part of the business sector?
Is it feasible in practice?
Speakers
Brian Schaitkin
Former Senior Economist
The Conference Board

Brian Schaitkin is a former Senior Economist in U.S. Economic Outlook & Labor Markets at The Conference Board. He is part of a team working to expand The Conference Board's previous work on labor shortages. In addition, he will be leading efforts to expand coverage of regional economies...Full Bio

Olli Kangas
Director of Governmental Relations
Social Insurance Institution of Finland (KELA)

Olli Kangas is Director of Governmental relations at the Social Insurance Institution of Finland (KELA). Previously he has worked as Research director at KELA (2008-2014), Olof Palme Professor at the Uppsala University 2015, H.C. Andersen Professor at the University of Southern Denmark (2012), pr...Full Bio

Kate McFarland
philosopher, freelance writer, editor, and researcher

Kate McFarland is a philosopher and currently works as a freelance writer, editor, and researcher. At present, she is working under a one-year contract as a reporter for Basic Income News, the news service of the Basic Income Earth Network. She has also recently served as Secretary ...Full Bio

Joze Mencinger, PhD, Professor Emeritus
Lawyer, Economist and Politician

Joze Mencinger (1941)PhD. in economics with the University of Pennsylvania, Philadelphia, USA, in 1975, professor of economics, Law School, University of Ljubljana, emeritus since 2014;

- author of a number of articles and publications, author and co-author of a number of econometric mode...Full Bio

Ilaria Maselli (Moderator)
Senior Economist
The Conference Board

Ilaria Maselli has been the senior economist for Europe at The Conference Board since March 2016. Maselli monitors the monthly business cycle of the European economy and contributes analysis to The Conference Board Global Economic Outlook. She also contributes to in-dept...Full Bio