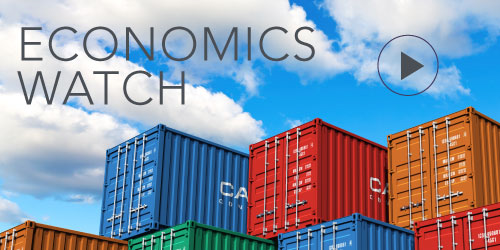 Challenges of and Solutions to Labor Shortages
November 13, 2019 11:00 AM ET [11:00] (New York) | (1 hr) | Time Zone Converter
The US labor market has become historically tight and business leaders have increased difficulties with recruitment, retention, and rising labor costs that have started to impact corporate profits. In our upcoming report on The Challenges of and Solutions to Labor Shortages, our expert panel of economists discuss what companies need to know about labor shortages and deliberate on potential solutions.
During our November webcast, our expert economists will first provide their monthly update on the state of the US economy and then reveal:
How the tightening of the US labor market has impacted recruitment;
Why labor markets are tighter for blue-collar and manual services workers;
What the best ways are to deal with recruitment and retention difficulties according to The Conference Board Labor Shortages Solutions Survey;
How recruitment has expanded to underrepresented demographic groups.
Who Should Attend: Business executives with an interest in learning more about the state of the US economy and the challenges of and solutions to labor shortages in the US.
Earn 1 CPE credit
Economics
Requirements : Attendees must be logged on for the duration of the webcast, participate in all interactive polls, and request credits via the on-screen form. Delivery Method: Group-Internet Based Program Level: Intermediate, Prerequisites: Bachelor's degree or higher, Advanced Preparation: None
Speakers
Elizabeth Crofoot
Senior Economist, Labor Markets
The Conference Board

Elizabeth Crofoot is a Senior Economist in labor markets at The Conference Board, where she is part of the Help Wanted OnLine© program and leads the International Labor Comparisons (ILC) program. She has over 15 years of experience assessing inter...Full Bio

Frank Steemers
Associate Economist
The Conference Board

Frank Steemers is an Associate Economist at The Conference Board and mainly involved in the analysis of the labor market in the US and other mature economies. Based in New York, he conducts statistical and descriptive analyses and contributes to labor market reports and blogs. He is one of the pr...Full Bio

Gad Levanon, Ph.D.
Chief Economist, North America
The Conference Board

Gad Levanon is chief economist, North America for The Conference Board, where he oversees the labor market, US forecasting, and Help Wanted OnLine© programs. His research focuses on trends in US and global labor markets, the US economy, and forecasting using economic indicat...Full Bio

Erik Lundh (Host)
Senior Economist
The Conference Board

Erik Lundh is a senior economist at The Conference Board. Based in New York, he is responsible for much of our work on the implications of China's global economic integration and works closely with both the global economics team and our researchers in Beijing.

Erik joins us from ISI...Full Bio