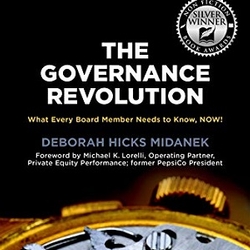 Book Discussion: 'The Governance Revolution' with Deborah Midanek
What Every Board Member Needs to Know, NOW!
How did we get to where we are with corporate governance? What pertinent lessons can we pull from the history of the board and the public corporation? Do the current codes of corporate governance provide an adequate framework to help companies govern more effectively?
In her insightful and entertaining book The Governance Revolution: What Every Board Member Needs to Know, NOW!, renowned corporate problem-solver Deborah Midanek (Founder and President, The Solon Group, Inc.) explains that the corporate board as we know it today can trace its roots back to the first public companies in Europe, and details the evolution of the board and public company from the Dutch East India Company days onwards. In hand with this fascinating history, Ms. Midanek draws from her first-hand experiences as a corporate board member and hedge fund manager on Wall Street to provide detailed analysis of prominent sets of governance principles, along with thoughts on the role of the board today.
In our Book Discussion webcast, Doug Chia (The Conference Board ESG Center) speaks with Ms. Midanek in detail about her book, career experiences, and thoughts on where boards and companies need to go from here.
Speakers