GLOBAL ECONOMIC OUTLOOK
May 2021
For our suite of reports, please scroll down to 'Global Economic Outlook Content'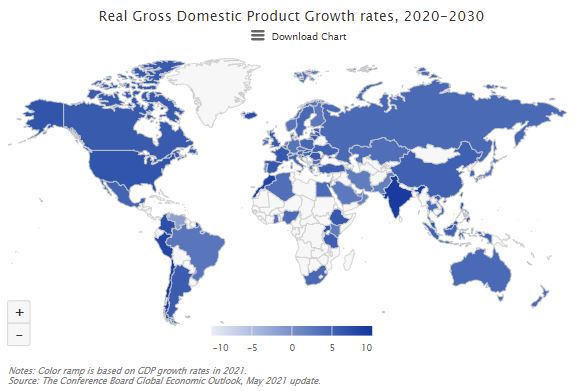 According to the latest estimates by The Conference Board, global GDP likely contracted by 3.7% in 2020. The global economy should rebound in 2021 by 5.2 percent, equally driven by mature economies and emerging markets and developing economies. This is despite the recent setback experienced by the Indian economy due to the COVID-19 outbreak in the country. After a relatively slow first quarter, global growth should pick up materially in the second quarter, and especially in the second half of the year, as vaccine distribution allows for lifting of restrictions on economic activity in the United States, Europe, and elsewhere. Continued fiscal and monetary policy support in many economies will provide additional tailwinds. Demand for in-person services, which so far has been hit hardest by the pandemic restrictions, will lead the recovery. Industrial output growth, which has remained relatively strong should retain its momentum as business investment rises in anticipation of a faster recovery in consumption.
A rapidly deteriorating health situation in India prompted a downgrade to the forecast for India for the calendar year from 11.3 to 9.3 percent. While various Indian states have already implemented restrictions on activity, including curfews and the shuttering of non-essential shops and workplaces, the assumption is for no nationwide lockdown to be implemented, and that the pandemic should improve from June onwards. Most of the impact on output should be concentrated in the second quarter, when GDP is likely to contract by 5 percent, followed by a recovery in the third and fourth quarters. This 5 percent contraction in the second quarter compares to a 26 percent decline in the second quarter of last year, when a relatively strict nationwide lockdown was instituted. A general assumption underlying these forecasts is that second or third wave lockdowns generally have a much more limited impact on economic activity. This is because restrictions have often been more targeted, businesses have adapted, and there is less fear among consumers.
Globally, the downgrade of India's forecast is offset by upgrades to forecasts for China and the US, leaving the global GDP forecast of 5.2 percent for 2021 unchanged from last month.
In the long term, beyond 2023, The Conference Board projects global growth to return to an average annual rate of around 2.6 percent. The severe contraction induced by the global pandemic leaves a permanent scar on global growth in the long run, but global growth is expected to return to close to previous projections. Factors that have for a large part driven global growth in the last two decades, including the greater supply of labor and fast growth in capital stock to worker ratios, are expected to weaken substantially over the next decade. This will only be partially offset by a shift towards qualitative growth sources, driven by accelerating digital transformation and productivity improvements.
Downward risks to a continued recovery have diminished somewhat with the acceleration of vaccination campaigns, and the passage of a third, large economic relief package by the new US administration. Nonetheless, new, more infectious variants of the virus may lead to renewed restrictions on activity, particularly if global vaccination campaigns lag. Rising commodity prices, supply-chain disruptions, continued strong demand for goods, and increasing demand for in-person services are stoking producer and consumer price inflation. Also, low interest rates are fomenting asset price inflation. Easy monetary policy and fiscal policy packages may be unwound too quickly, sapping demand and confidence, leading to a deluge of bankruptcies which so far have mostly been averted. This would in turn cause trouble for bank balance sheets, which have stayed in relatively good shape so far due in part to extremely accommodative monetary policy. Furthermore, sovereign debt crises are looming as many emerging markets and developing economies have taken on large debts that may be difficult to service in the future, especially if the recovery is delayed or is slower than expected. Other downside risks include heightened geopolitical tensions, deglobalization, domestication of supply chains, and renewed trade wars. On the other hand, upside risks include more economic stimulus, especially in the US in the form of new infrastructure spending, a faster-than-expected rollout of viable vaccines to broad segments of the population, and a productivity boost from the accelerated adoption of digital technology.
REGIONAL INSIGHTS FOR WHAT'S AHEAD
The Conference Board forecasts that US Real GDP growth will rise to 8.6 percent (annualized rate) in Q2 2021 and 6.4 percent (year-over-year) for the full year 2021. Following solid economic growth in Q1 2021 growth should further accelerate in Q2 2021 and Q3 2021. The primary driver of this rapid expansion will be a surge in consumer spending as the economy fully reopens. High and increasing vaccination rates and low new COVID-19 case numbers indicate that the reopening process may be complete for much of the country by the end of the summer. The rapid acceleration in growth has led to heightened concerns about rising inflation. Presently, inflation is forecasted to peak in Q4 2021 with the price level for personal consumption expenditures (PCE) – the US Federal Reserve's preferred inflation metric – rising to 3.0 percent (year-over-year) and Core PCE inflation rising to 2.4 percent (year-over-year). It is unclear whether the Fed would tolerate inflation rising to these rates for an extended period of time. However, inflation pressure should abate in 2022 and 2023.
As lockdowns were extended in most countries and with a slower-than-expected vaccine rollout weighing on confidence, quarter over quarter growth in the Euro Area declined again in the first quarter of 2021. This brought the common currency bloc into a so-called technical recession, although employment and industrial production (coincident indicators) are above their levels six months ago. However, following the stall, growth in the Euro Area should pick up from Q2 onwards. Still, unlike the US, most European economies are not expected to reach pre-pandemic levels of GDP before early-2022. The pace of vaccination is picking up in most large continental economies so that from July onwards, most of the restrictions are likely to be lifted and thereby increase the pace of the recovery, a few months behind the UK.
Adjusting for the low-base effect, China's economic growth in Q1 has decelerated from Q4 2020. As growth in Q4 last year has exceeded pre-COVID trend growth, the current moderation probably signals a transition of the Chinese economy from recovery mode to a return to trend growth, in other words, "normalization". Monetary policy and trade performance are both normalizing, which will lead China's top-line growth slowdown in the coming quarters. Current producer price inflation is likely to further intensify in the coming months before it levels off in late 2021. Despite the inflationary pressure, the monetary environment is likely to remain comparatively loose through 2021.
The Conference Board expects real GDP to contract by 4.7 percent in 2020 and to rebound by 2.3 percent and 4.1 percent, respectively in 2021 and 2022. The global oil demand recovery stalled in Q1 2021, as a result of resurgence of COVID-19 cases. However, the better-than-expected rebound in the US economy, among others, and ongoing vaccination campaigns will provide support for growing oil demand in the second half of 2021. The Conference Board has raised the oil price (Brent) forecast to average $63/bbl in Q2 which is likely to accelerate up to $70/bbl in Q3 before falling back to $65/bbl in Q4 2021. However, downside risks remain high, including the resurgence of the virus in India, slowing oil demand from China, a rise in US shale oil production, and OPEC+ rushing to ramp up production. Countries that have long realized that heavy reliance on oil revenues is not sustainable and are committed to their development plans (to support the non-oil economy) will have a head start in the race towards recovery. Hence, the 2021 economic recovery of the Gulf countries will diverge drastically, with Saudi Arabia, Qatar and the UAE rebounding rather faster than Oman, Bahrain, and Kuwait.
To access our forecasts in excel format, click here.
For an overview of the methodology of the medium-term growth projections, please see our working paper and our changes notes (October 2020).
Chart 1: Quarterly real GDP index: COVID-19 versus global financial crisis of 2008-2009
The Conference Board Global Economic Outlook, 2011-2030
Real GDP Growth Rates (Average Annual Percent Change)
2011-2019
2020
2021
2020-2023
2024-2030
United States
2.3
-3.5
6.4
2.3
1.8
Europe
1.6
-6.5
4.4
0.7
1.2
Euro Area
1.2
-6.8
4.2
0.6
1.0
United Kingdom
1.9
-9.8
5.6
0.1
1.4
Japan
1.0
-4.9
2.5
0.3
0.9
Other Mature Economies
2.7
-2.2
5.7
2.4
2.6
All Mature Economies
1.9
-4.7
5.1
1.5
1.6
China
4.4
1.4
5.1
3.3
3.2
India
6.8
-7.1
9.3
3.3
5.5
Other Developing Asian Economies
5.0
-2.9
4.7
2.9
4.6
Latin America
1.1
-7.5
4.6
0.4
1.7
Brazil
0.7
-4.4
2.8
0.8
1.3
Mexico
2.4
-8.5
4.8
0.2
1.7
Middle East & North Africa
2.8
-2.8
3.1
1.4
2.6
Gulf region
3.3
-4.7
2.3
0.6
2.0
Sub-Saharan Africa
3.6
-1.7
4.3
2.2
3.7
Russia, Central Asia and SE Europe
2.8
-1.5
4.5
2.0
2.4
Russia
1.7
-2.9
4.1
1.3
1.7
Turkey
5.5
1.6
5.2
3.2
3.3
Emerging markets and developing economies
3.9
-2.7
5.3
2.5
3.5
World
2.9
-3.7
5.2
2.0
2.6
Addenda
United States (Adjusted)
2.4
-3.3
6.6
NA
NA
China (Official)
7.4
2.3
8.6
NA
NA
India (Fiscal Year)
6.5
-7.4
9.4
NA
NA
Notes: Chinese data are based on alternative GDP measures, See Harry Wu, China's Growth and Productivity Performance Debate Revisited—Accounting for China's Sources of Growth with a New Data Set, The Conference Board, 2014. The data was updated and revised in May 2020 and the historical data series are available through The Conference Board's Total Economy Database; United States (adjusted) refers to our alternative GDP series for the US which are revised upward as they are based on alternative price deflators for ICT investment goods and services.
Source: The Conference Board Global Economic Outlook, May 2021
Economy Watch

Monthly report that provides economic forecast and insights to both global and domestic businesses.
Everybody has an opinion. We have the data.
The Conference Board: Consensus Economics® Forecast Accuracy Award Winner US 2016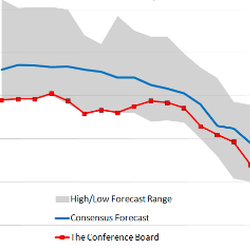 Global Economic Outlook Data 2020 October
Global Growth Projections for The Conference Board Global Economic Outlook 2019
PRESS RELEASES & iN THE NEWS