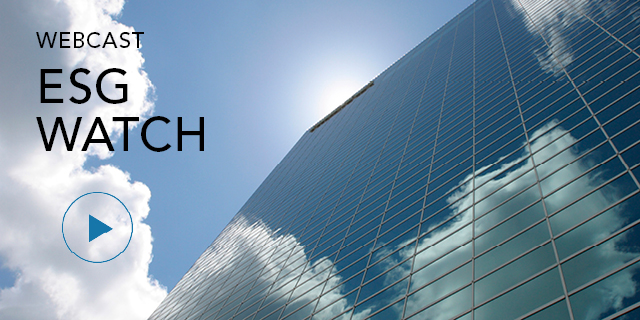 Investor Expectations & Engagement During the COVID-19 Crisis

12 May, 2020 | (01 hr)
Sign In to access this Webcast
A great deal of attention has been paid to how companies are navigating the COVID-19 pandemic, yet there has been little focus on investor expectations and engagement with companies during this time.
Join experts from CalSTRS, Nuveen, and T. Rowe Price in a webcast moderated by Paul Washington, Executive Director of the ESG Center, as they discuss:
What investors want to know, as part of the proxy season engagement discussions, about the company's response to the COVID-19 pandemic
Any "red flags" that companies should be aware of
The practical steps companies can take to remain engaged with their investors during the crisis
How ESG discussions are playing out this year – and what the long-term impact of the pandemic may be on ESG issues
How investors view companies' adoption of short-term protection measures (i.e. poison pills)
Investors' experiences with virtual meetings so far, and whether those meetings will gain acceptance even after the 2020 proxy season
What companies can do now to prepare for the 2021 proxy season
Who Should Attend: Current and prospective board members of public and private companies; CEOs, general counsel, and other C-suite executives; corporate secretaries; investors; attorneys; and other corporate governance professionals.
Speakers
Donna F. Anderson, CFA
Vice President and Head of Corporate Governance
T. Rowe Price Group, Inc.

Donna F. Anderson is Vice President and Head of Corporate Governance for T. Rowe Price. In this role, Ms. Anderson co-chairs the firm's ESG Committee and leads the firm's engagement efforts with portfolio companies. She is also a member of the firm's Valuation Committee and a Di...Full Bio

Kirsty Jenkinson
Investment Director, Sustainable Investment & Stewardship Strategies
California State Teachers' Retirement System (CalSTRS)

Kirsty is the Investment Director, Sustainable Investment & Stewardship Strategies for the California State Teachers' Retirement System (CalSTRS), the largest educator-only public pension fund in the world with over $240 billion of assets under management. She joined CalSTRS in January ...Full Bio

Peter Reali
Senior Director, Responsible Investing
Nuveen

Peter Reali is a senior director and member of the responsible investing (RI) team at Nuveen, the investment management arm of TIAA.

Nuveen's responsible investing team is responsible for creating a firm-wide holistic RI vision, executing a unified framework across Nuveen's mu...Full Bio

Paul Washington (Moderator)
Executive Director, ESG Center
The Conference Board

Paul Washington is a recognized leader with a distinguished career in the ESG space. Before joining The Conference Board ESG Center, he served as Senior Vice President, Deputy General Counsel, and Corporate Secretary of Time Warner Inc. He also served as Chief of Staff for the company'...Full Bio