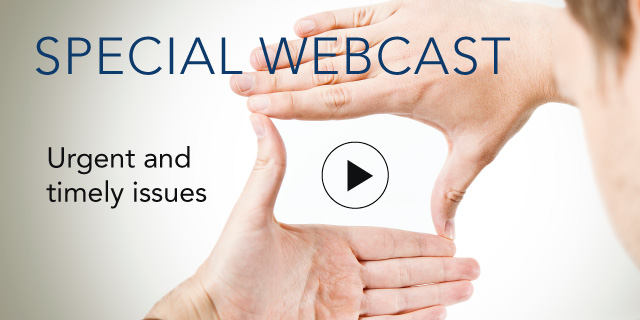 Sustainability in China: Multinationals in the Crosshairs

27 April, 2015 | (01 hr)
Sign In to access this Webcast
A major, long-term environmental clean-up is inevitable in China. There are clear signs that China will increasingly push companies to contribute to solving environmental problems, and that multinational corporations (MNCs) will be at the forefront of this push. Already, the supervision of corporate environmental performance is tightening.

Heightened environmental awareness, stringent regulation, and intensified enforcement carry opportunities and risks for MNCs and foreign investors. Are their sustainability practices in China on par with what they do globally? The risk of severe sanctions for offenders by China is countered by enormous opportunities for those who emerge as sustainability leaders.
All registrants will receive a complimentary copy of the report. For more resources on this topic, please visit: https://www.conference-board.org/sustainability-innovation/
Who should attend: Chief sustainability officers; heads of CSR; senior leaders in international that supervise communications, marketing, or branding in China/Asia; human capital leads responsible for employee engagement in China/Asia; compliance officers; CFOs of international; global supply chain managers.
Speakers
Anke Schrader
Research Director, the China Center for Economics and Business
The Conference Board

Anke Schrader leads the research of The Conference Board China Center for Economics and Business on corporate citizenship, sustainability, and human capital. Her current research interests include corporate sustainability practices, measurement, and reporting; corporate ...Full Bio

Sophia Mendelsohn
Head of Sustainability
JetBlue Airways

Sophia Mendelsohn is currently the Head of Sustainability at JetBlue Airways, where she is shaping policies and practices that enhance JetBlue's competitive advantage and reduce environmental impact. Prior to JetBlue, Sophia was Head of Sustainability, Emerging Markets for Haworth Inc., a m...Full Bio

Parker White
Vice President, Technical Services, Americas; Sustainability Director, Energy & Sustainability Services (ESS), Global Board
JONES LANG LASALLE (JLL)

Based in New York City, Parker White is a Sustainability Director on the ESS Global Board and a VP of the Americas Technical Services division, focusing on business development for the ESS and the IntelliCommand business units. In these capacities, he advises corporate Fortune 1000s, investors, a...Full Bio

Alex Parkinson (Moderator)
Communications Institute Co-Leader
The Conference Board
Principal
Parky Communications

Alex Parkinson is Principal of Parky Communications, a communications agency specializing in sustainability and CSR reporting and communications. He serves as the Co-Leader of The Conference Board Corporate Communications Institute and is also Executive Editor of the organizat...Full Bio