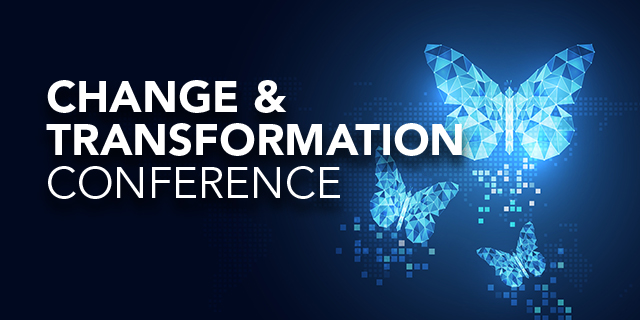 June 17, 2020
Organization Design and Transformation: Differentiation by Design
Wednesday, June 17, 2020, New York Marriott Downtown
Participate in a highly interactive full-day workshop to create the roadmaps to align your organization's design with its differentiating business strategy. Explore case studies and innovative tools to design and lead business model transformations in which your organization structure becomes a reflection of your strategy.
We are currently working on the agenda. Stay tuned for more information.
June 18 - 19, 2020
About the Conference
In this world of ever-accelerating change, leaders in change management must continuously learn, adapt, and leverage new tools to ensure that their organizations are fueling the future. Come and learn from The Conference Board's Change and Transformation Council members and experts, as well as global change leaders from diverse sectors. Discover ways to develop new services and products with agility, to embrace digital transformation, and to find purpose in new business models and ways of working.
Topics to be discussed include:
Rise of the Transformers and the Triumph of Humanity
The Purpose-Resilience Connection
Leveraging Existing Networks to Build Change Capability in Business Units
Change and Recruitment: Hiring and Onboarding to Build Agility
The Neuroscience of Culture Change
Transparency, Empowerment, and Change on the Front Lines
Leading Leadership to Change
Exclusive Research: Leveraging Analytics to Understand the Employee Journey and Design Human-Centered Change
Storytelling in 2020: Creating Immersive Change Experiences
Driving Change versus Driving People
Building Our Resilience and Influence as Change Leaders
Leading Through Digital Business Model Disruption
Data Dialogue: New Approaches to Quantifying the ROI of Change Management
Workplace Revolutions and the Future of Change
Confirmed speakers to date include:
Travis Hahler, Americas Change and Culture Lead, Google
Alana Silverman, Director, Change Management, Memorial Sloan Kettering Cancer Center
Dr. Drew Kreienkamp, U.S. Organization Effectiveness & Development Lead, Bayer
April Mills, Business Architect and Principal Consultant, Intel; author, Everyone is a Change Agent
Kent Greenes, Program Director, Change & Transformation Council, The Conference Board
Solange Charas, Ph.D., Distinguished Principal Research Fellow, The Conference Board Amanda Popiela, Researcher, Human Capital, The Conference Board
Who Should Attend
The 18th Annual Change and Transformation Conference is designed exclusively for change leaders, practitioners and executives responsible for transformation and direction setting enterprise-wide or at the business unit level. Titles to expect include:
Chief Executives, Heads, VPs, Directors and Managers of:
Change Management
OD/OE
Organization Design
Communications
Strategy

Human Resources/People
Talent & Learning
Transformation
Innovation
Project Management
Register early and Save $400! Offer ends April 4, 2020.
If you would like to get involved in this year's conference, please contact us.
Solange Charas, Distinguished Principal Research Fellow, The Conference Board
Kent Greenes, Program Director, Change & Transformation Council, The Conference Board
Travis Hahler, Americas Change and Culture Lead, Google
Drew Kreienkamp, U.S. Organization Effectiveness & Development Lead, Bayer Corporation
April Mills, Business Architect and Principal Consultant, Intel Corporation, author, Everyone is a Change Agent
Amanda Popiela, Researcher, Human Capital, The Conference Board
Alana Silverman, Director, Change Management, Memorial Sloan Kettering