CEO Forum
Building a More Civil & Just Society
A Series of Leadership Forum Conversations To Foster Action
No one could have predicted this confluence of events just a few months ago: beginning with COVID-19, the ensuing economic crisis, then the death of George Floyd and now the seismic street protests driving a sea change in public consciousness. CEOs across the corporate landscape have added their voices to the discussion and are determined to use their influence to make lasting change; corporations are in a unique position, and indeed are often expected to, address issues of racial injustice and social unrest.
For over 100 years, The Conference Board has helped the world's leading companies—and society at large—navigate crises and develop reasoned solutions for our country.
The CEO Forum series will feature CEOs from across American industry who will focus on actionable insights to address underlying challenges of economic opportunity, childhood education, health care, workforce skills development, workplace equality and corporate governance.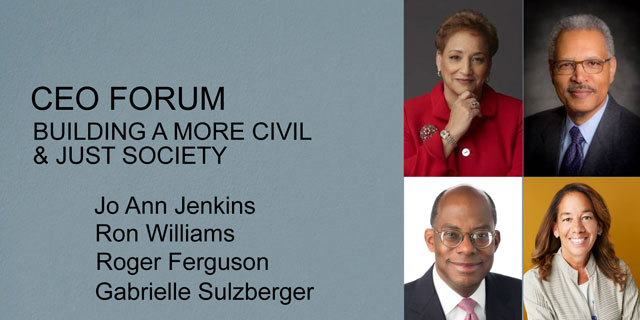 June 24, 2020
In line with our tradition of convening leaders around critical issues facing society we are pleased to initiate this series with our CEO, Steve Odland, as he talk with four of our nation's leading CEOs: Roger Ferguson, President and CEO of TIAA, JoAnn Jenkins, CEO of AARP, Gaby Salzburger, GeneralPartner of RC Fontis, and Ron Williams, CEO of RW2 and former CEO of Aetna. In this program, these business leaders look at The Challenge of Rebuilding America. 59 minutes. The individual interviews can be viewed below.
THE CHALLENGE OF REBUILDING AMERICA
MAKING QUALITY HEALTHCARE AVAILABLE TO ALL
CREATING ECONOMIC OPPORTUNITY
ROLE OF THE PUBLIC CORPORATION IN BUILDING A MORE CIVIL AND JUST SOCIETY
BUILDING QUALITY EARLY CHILDHOOD & K-12 EDUCATION
ENSURING EQUALITY IN THE WORKPLACE
Continual Skills Development For An Evolving Workforce