The digital era of industry change has emphasized the lowest price, automated tactics, and direct response metrics at the expense of strategy. Planning our media investments in order to maximize the outcomes we seek is a lost blend of science and art. Reviving strategic media planning using a new paradigm appropriate to today's environment will improve ROI and create competitive advantages.
The Old Paradigm
The old paradigm that connected marketers to media companies via their media agency worked very well in the analog era. It looked like this:
In this model, the media agency sucked in information from media companies through fire hoses. The information was strategic (audience insights) and transactional (marketplace pricing). The agency provided a valuable service by filtering out the vast majority of this information before passing only the most relevant and useful information through to the client using a straw.
The model worked because the agency's filter was strategic. Sophisticated and experienced agency executives developed a deep understanding of the marketer's consumer and their advertising objectives and then used the client's unique needs as the filter.
The model was built on trust. The erosion of that trust was a central element of the insidious change described in article one Ad Industry Chaos: How Did We Get Here? The agency holding company trading desk fiasco was the last straw, but the breakdown of trust between marketers and their agencies evolved insidiously over two decades.
Placing blame does not matter now. Finding a new model for going forward is the critical responsibility of each marketer and there is no status quo to hang onto if they don't.
The New Paradigm
On the other side of inflection points, new models emerge. Marketers today have good reasons to feel optimistic:
Procurement and marketing executives are working harder to find common ground Controlling expenses and investing in growth are usually in conflict but a constructive process is emerging that makes executives smarter and their companies stronger.
The confusion and conflicts related to media agencies has been highlighted by the Association of National Advertisers (ANA) By acting collectively, the ANA made it possible for C-suite executives to zero base the best way to work with media agencies.
Internet advertising can now be planned dispassionately with a clear understanding of strengths and weaknesses just like all other media channels The pressure to chase the new, new thing just because it is new is greatly reduced.
"MarTech" is profoundly changing the game with new tools and resources that empower marketing executives like never before Data is becoming useful for application to media strategy, not just for direct response return on investment (ROI) analytics. One untapped benefit of Martech is that data stored in the cloud makes it efficient for marketers to absorb a lot of information directly from big media companies.
But, one big gap remains. The process of translating marketing objectives into media investments is too often a direct leap into tactics and that is inefficient, no matter how cheap the cost per thousand impressions (CPMs) or the clicks may be. Media strategy is a lost art and media agencies are not going to rebuild this skillset. It is more obvious than ever that media strategy needs to be an in-house area of expertise for marketers, but building that skill set is a gnarly challenge.
Marketers need a new model that looks like this: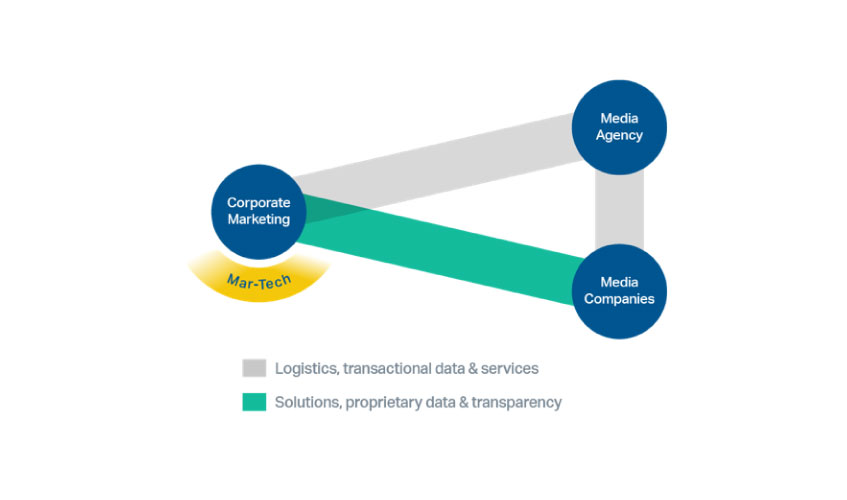 In the new model, the media agency's role remains critical. The media agency continues to provide the services that make them irreplaceable—media pricing analysis, channel tactics and buying, campaign logistics, and billing reconciliation. It's still a huge job that is very hard to do and no other entity is investing in the ability to absorb this work.
On the other hand, marketers need to be more self-sufficient when it comes to media strategy that drives smart investments and marketers need to build strategic partnerships with the most important media companies that get the lion's share of the advertising budget.
How to Succeed with the New Paradigm
In order to make media strategy a core part of the corporation's best practices, the marketing department and an executive team led by the CMO can take the following steps:
Create and empower a small team of stakeholders The team's mission is to improve the strategy that drives media investments and to develop key performance indicators (KPIs) that track brand equity and sales performance, not just sales ROI in a vacuum.
Marketing leads the team but finance, sales, data, and technology should each have a stakeholder on the team. MarTech has a critical role to play from the very start.
Refresh or create a document that tightly articulates the objectives and strategies that the advertising budget is intended to support A broad question to start with is: "Why do we have a large line item to buy media campaigns?" This is the time to focus on how advertising investments are tied to the brand's business objectives.
For example, most companies advertise because strong brands are more efficient drivers of growth and sales efficiencies than weak brands. But, during this long window of insidious change, media spending has often been reduced to some very simple direct response metrics in order to measure ROI. Successful brands (and seasoned marketing executives) know that the "R" in ROI is actually a very complex and sophisticated concept.
Review and define what you want your media agency's services to include and not include This is channel-specific work. The needs from the agency for local radio buying will be very different than the needs for national broadcast TV and both of those will be quite different from the needs for supporting search engine advertising.
Audit the company's media spending at a macro level, not a micro level Consider the following questions:

Which media corporations benefit the most from your media budgets?
What is your company doing to maximize the quality of strategic thinking that is going on at these media companies to best align your spending to your business objectives?
How might your data needs be improved if you had a proprietary relationship with select media companies where very private and protected data about consumers could be shared without a media agency's servers touching the data?
How can you simplify and improve media agency billing audits by being able to match transactional data collected directly from the media companies to the invoices coming from the agency in a fully automated system?

Develop a pro-active plan to invite a curated list of media companies to enter into partnership discussions Develop a process to brief senior executives at the most-important media companies the same way that you brief your agencies about your business objectives and marketing plans. Challenge these companies to break down their own silos and come back to you with a 12-month recommendation that delivers on your strategy.
You need to consider running this process without your media agency involved. The agency should be fully informed about what you are doing and who you are meeting with, but they don't need to be in the room. Your media agency has the interests of many other advertisers and its own interests in mind. Media companies might put a whole lot more on the table, especially including access to proprietary data, when the agency is not in the room.
Conflict Example 1: Some of the biggest media companies in the world own major TV networks in the USA. It is possible that the annual "Upfront" marketplace might not be the best way for your company to work the most valuable deals with this media company. Few media agencies are prepared to recommend that one of their major clients drops out of the Upfront process. It is impossible for a marketer to discern the degree to which their Upfront TV investment is being used to help other advertisers represented by the same media agency.
Conflict Example 2: With the old paradigm, agencies made money on media commissions. Today, media agencies are primarily compensated based on fees for the scope-of-work. The change is profound. Agencies compensated with media commissions are incentivized to keep things as simple and straightforward as possible when it comes to the tactics they recommend. Agencies with narrow profit margins that are compensated based on the scope of work are incentivized to make things seem as complicated as possible when they are negotiating contracts and that influences their culture (rightly so). The digital media agencies in particular are incentivized to embrace complexity because it protects their role in the middle and it supports the case for a large scope of work. When a marketer holds direct, confidential meetings with media companies, they are likely to find out that media companies are now built to absorb complexity on their end.
Marketers Are Ready
The digital era could have ushered in a new "golden age" for advertising but intentional changes had unintended consequences. The advertising industry as a whole lost its way.
Many forms of change occurring all at once made marketing a foggy endeavor but, as the clouds clear, the opportunity for marketers is exciting. MarTech is a game changing platform that will revolutionize the power of data and information (organized using technology) to be applied aggressively by experienced marketers who can bring their insights and wisdom into the mix.
The ANA has created a level of air cover that helps the CMO. Just 18 months ago, a CMO who was wrestling with the right decisions for using an agency trading desk to buy digital inventory was confused and isolated. As video has moved to digital streaming, the temptation to move TV budgets is strong but transparency and accountability issues left CMOs feeling their way in the dark. Questions about how the media agency made its money were intense and mind boggling not too long ago. The ANA is shining a spotlight on all of these challenges. The organization is bringing transparency and accountability out into the open where both the CMO and the CFO can learn from their peers and from independent experts.
Ambiguity is the enemy going forward. A refreshed set of objectives and strategies is needed to clarify the intentions of the advertising investments. Clear strategies need to be complemented with measurable KPIs that are a mirror image of the strategy, not the tactic.
Ambiguity in terms of the relationship between a marketer and its media agencies is also a problem that can now be addressed. Crystal-clear relationships that define agency responsibilities with a precise yet complex scope of work will build trust and performance.
Bringing media strategy in-house requires getting closer to the sources of data and research that can guide the tip from a marketing plan to a media initiative. This is not easy but MarTech infrastructures can carry some of the weight while training and hiring can address the rest. Closer partnerships with big media companies will open up avenues of access to third-party research that can be invaluable.
Deeper and more strategic relationships with a marketer's most important media companies can generate investments that are negotiated by the marketer first, then executed by the media agency afterwards. It's time to start treating the giant media companies the way that we used to treat the giant holding companies. Media companies have the assets to grow into the role of strategic solutions providers but some don't even realize how strong they can be in this context. Nudging them forward will generate large dividends while also creating a new and better way to sort out which media companies truly are worth the large budgets they receive.
Obviously, no corporation wants to handle a tsunami of media company sales people beating on their doors. So, getting closer to the media companies cannot be a reactive tactic. The corporation must approach this opportunity pro-actively with clear strategies and outcomes well defined. But, with those in hand, the opportunity should be game-changing.
The tasks are not that daunting when compared to what marketers were dealing with just a few years ago. Change with a sense of direction is empowering. Chasing change tactically without a well-grounded communications plan is paralyzing.


---
This is the second of two articles that address one of the most important line items in an enterprise's budget—advertising. This article explains how the advertising industry lost its way in the digital era. The previous article, Ad Industry Chaos: How Did We Get Here?, explained how the advertising industry lost its way in the digital era. This article provides a new paradigm for managing the advertising budget with strategic certainty.


The opinions expressed in this report are those of the author(s) only and do not necessarily reflect the views of The Conference Board. The Conference Board makes no representation as to the accuracy and completeness of the content. This report is not intended to provide legal advice, and no legal or business decision should be based solely on its content.