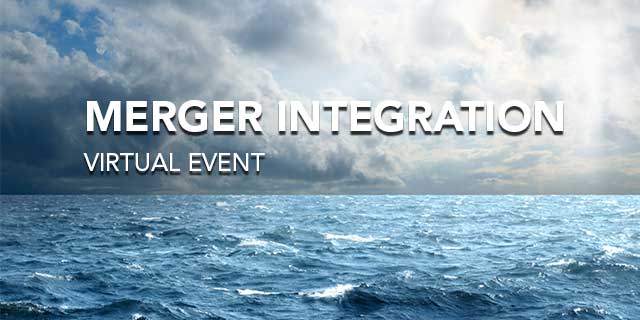 NOVEMBER 05 - 06, 2020
VIRTUAL MEETING
November 05 - 06, 2020
UPDATE: Over the past two months, we have been closely monitoring the situation surrounding COVID-19 and the rapid changes associated with it. For the safety of our attendees, members, speakers and staff, we have decided to take the 2020 Merger Integration Conference virtual.
If you are already registered, your registration will be automatically transferred to the 2021 event and you will receive this year's virtual event for free. We will send you updated details on the schedule, sessions, speakers, networking opportunities, etc. as soon as they are available. If you have a conflict or any questions, please contact Brian Teagle at brian.teagle@conference-board.org. Please also note - If you have an existing hotel reservation, you will need to call the hotel directly to cancel. Unfortunately, the hotel will not allow us to do that for you.
About the Conference
This best-in-class learning and development opportunity is for executives wanting to gain first-hand knowledge on M&A integration. Gain insights from leading serial acquirers, who will share best practices for delivering the value that shareholders expect. Walk away with the strategic advice needed to justify the endeavor, as well as the knowledge to succeed on a day-to-day basis.
Recommended for teams, this event is a unique training and development opportunity for you and your colleagues.
Who Should Attend
This conference is designed exclusively for Vice Presidents, Heads, and Directors of:
M&A
Corporate Development
Joint Ventures
Strategic Alliances
Integration Strategy
Business Development
Human Resources
Get Involved

If you would like to get involved in this year's conferences, please contact us.
Nathalie Benzing, SVP Business Transformation, Trax Retail
Graham Corneck, VP, Strategy and Integration, Campbell Soup
Oliver Engert, Senior Partner, McKinsey & Company
Ala'a Eraiqat, CEO, Abu Dhabi Commercial Bank
Katelin Jabbari, Sr. Director, Google
Jim Jordano, Vice President, Integration Management Office, L3Harris
Steve Kaufman, Senior Lecturer, Harvard Business School, Former Chairman & Chief Executive Officer, Arrow Electronics
Brett Knappe, VP, General Manager, Medtronic Biologics
Bill Kozy, Member, Board of Directors, The Cooper Companies, Inc, and LivaNova, Former COO, BD
Chris Kreidler, Member, Board of Directors, P.F. Chang's, Former CFO, Sysco Foods
David Le, Vice President & Associate General Counsel, Lyft
Jeff Pearl, VP, IT Integration and Divestitures, Takeda
Steve Phelps, CEO, NASCAR
Phillip Pratt, Director, Acquisition Integration, Corning Incorporated
Simon Robinson, President APAC and International CFO, Discovery