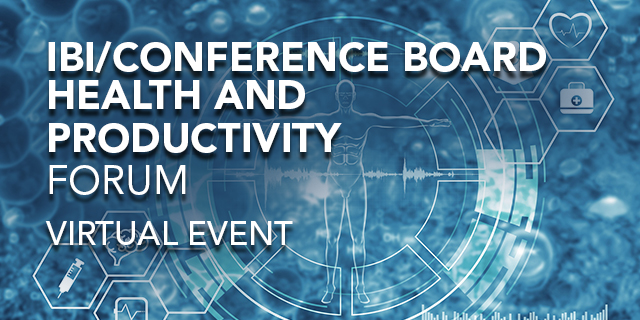 SEPTEMBER 14 - 18, 2020
VIRTUAL MEETING
September 14 - 18, 2020
UPDATE: Over the past two months, we have been closely monitoring the situation surrounding COVID-19 and the rapid changes associated with it. For the safety of our attendees, members, speakers and staff, we have decided to take The IBI/Conference Board Health and Productivity Forum virtual.
Employers and their partners have spent decades equating the value of health with the costs of health care. We know that to both employees and employers alike, the value of health encompasses the ability to attend work, be paid a full wage, perform highly and contribute to the success of the business. This event will address the more holistic value proposition for health and wellbeing and how the various program components contribute to it and align the interests of employees and employers in a new framework.
Key topics areas:
Engaging Senior Leaders in Health as Business Strategy: How can we better demonstrate the impact of health and wellbeing for our senior leaders so that is integrated into our business strategy? What are they operational measures to which they pay attention and how can they be brought into program evaluation?
Health and Wellbeing: How well are our health and wellbeing programs working beyond their impact on medical costs? How does poor health influence the ability of employees to attend work and do their jobs?
Medical and Pharmacy Plan Design and Care: How are health plan working to influence employee incentives to become better health-care consumers? How well are designs connected to our other programs in a holistic way? How can unintended consequences be brought into the analysis of their impact?
Absence, disability and productivity: Does our health plan strategy effectively address the top drivers of illness-related lost productivity? What are strategies to help employees return to work and be productive?
Data, metrics and reporting: What are the data and metrics that are critical for employers to understand the total cost of health? What are effective strategies for vendor partnerships?
---
Contact Gregg.Mauro@conference-board.org for more on speaking and sponsorship opportunties.
For marketing partnerships and questions, contact Melissa.Mianulli@conference-board.org.